Are you looking for theater and nonstop laughs and entertainment? Then be sure to catch Chicago's Porchlight Music Theater (Ruth Page Center for the Arts, 1016 N. Dearborn Street) production of A Gentleman's Guide to Love and Murder! Quite the killer musical comedy, the show has been extended by popular demand, and audiences now have until March 16th only, to see this gem of a production starring Jeff Award-Winner, Matt Crowle. Extremely talented singer, actor, and dancer, Crowle plays eight members of The D'Ysquith Family in this tour de force musical about one man's unbridled journey to Inherit his family's fortune.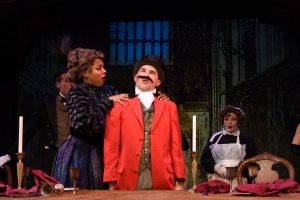 (L to R) Sharriese Hamilton and Matt Crowle in A GENTLEMANS GUIDE TO LOVE & MURDER from Porchlight Music Theatre]
The musical won the 2014 Tony Award for best musical and has been going strong ever since. It is a hilarious and entertaining story of Monty Navarro, an heir to a family fortune who sets out to jump the line of succession by-you guessed it-eliminating the eight pesky relatives who stand in his way. All the while, Monty has to juggle his mistress (she's after more than just love), his fiancée (she's his cousin but who's keeping track?), and the constant threat of landing behind bars! Of course, it will all be worth it if he can slay his way to his inheritance . . . and be done in time for tea. The show will have you dying with laughter and you will leave the theater humming the memorable music in your head.
(L to R) Michael Reyes, Sharriese Hamilton, Megan Elk, Matt Crowle, on chair, Ryan Dooley and Billy Dwyer in A GENTLEMANS GUIDE TO LOVE & MURDER from Porchlight Music Theatre
The musical features music by Stephen Lutvak, lyrics by Robert L. Freedman and Steven Lutvak, and a Tony Award-winning book by Robert L. Freedman. Porchlight's music direction is by Andra Velis Simon, and is directed and choreographed by an old high school friend of mine, Stephen Schellhardt, who is by far one of the most talented people I have ever met and worked with. The two of us went to New Trier High School together. We were a year apart in grade, but sang in choirs together, and performed in musical reviews and beloved musicals. It was always an honor to perform next to Stephen on stage. When I heard that he was directing and choreographing A Gentleman's Guide, I knew that I had to see the show. I was sure he was working tirelessly to achieve pure comedic perfection.
(L to R) Andrés Enriquez and Caron Buinis in A GENTLEMANS GUIDE TO LOVE & MURDER from Porchlight Music Theatre
My fellow journalist, Sharon Cutler, also attended the musical with her husband, and they were  both beyond impressed with the performance. She found it to be nonstop entertainment, while her husband exclaimed that it was "the best and brightest show with music, songs, and talent galore."
I also experienced this production as nonstop fun, and comedy with surprising twists of dark humor, such that  I was unable to stop laughing throughout the entire show.  My friend,  a musical theater buff just like me, joined me for the show, and was also beyond impressed. Everything was pure perfection from the actors to the music to the stage design to the costumes to Stephen Schellhardt's wonderful choreography.  Very few shows can blend  farce, satire, and historical comedy so successfully.
The extremely talented cast of A Gentleman's Guide includes Matt Crowle, "The D'Ysquith Family;" Andrés Enriquez, "Monty Navarro;" Caron Buinis, "Miss Shingle;" Emily Goldberg, "Sibella Hallward;" Ann Delaney, "Phoebe D'Ysquith;" Sharriese Hamilton, "Eugenia;" Ryan Dooley, "Magistrate;" Billy Dwyer, "Copley;" Megan Elk, "Tour Guide;" Rachel Klippel, "Barley;" Phoebe Moore, female swing and Adam Ross Brody, male swing.
Matt Crowle's performance as the eight members of the the D'Ysquith family is superb; very few individuals are as talented as he flawlessly pulls off such a huge number of identities, and a variety of such interesting characters. He seemed to conjure laughs out of thin air whenever he was onstage. Andrés Enriquez as Monty Navarro was perfectly cast as the long lost member of the D'Ysquith Family, whose mother was cast out of the family when she was in love with a man beneath her station. To get revenge, Monty vows to kill off the right living descendants to become the next heir, all the while having a grand ball and thrill of a ride bouncing off each family member: who knew murder could be so much fun?
The rest of the ensemble was performed by amazing and talented actors, especially Emily Goldberg, as Sibella, who handled the operatic necessities with ease while playing the passive-aggressive coquette/mistress of Monty. Caron Buinis, who played Miss Shingle, is gruff, scary, yet wonderfully endearing as the family friend who knows where the evidential birth certificate is hidden. I also really enjoyed Ann Delany as Phyobe D'Ysquith (Monty's cousin), who he ends up engaged to: she plays a rich widow who can act with brains yet also be a completely naïve character with a beautiful soprano voice as well. I also want to give kudos to the supporting cast, who were outstanding as they played multiple characters, just like the amazing Matt Crowle himself, which is no easy task.
Just as entertaining as the performers were the stage and set design. I loved the simplicity of the set and scene changes, the costumes, the props. Then, there were the hilarious, yet effective action sequences of Monty bumping off the eight unlucky D'Ysquith family members, who all met their doom is horrible, yet comical, yet countless entertaining ways including pushing a priest out of a high window, making a hole in the ice of a pond for two ice skaters to fall into and drown, a poisoning, encouraging fatal bee stings, and sending a great aunt to Egypt and the Amazon, hoping she will die trying to help the poor children and civilians she finds there.
Now, readers: go see A Gentleman's Guide to Love and Murder as soon as you can-you will be in for a theatrical treat that you will not soon forget!
Photos by Michael Courier
Extended Through March 16 at the Ruth Page Center for the Arts (1016 N. Dearborn Street, Chicago).
Performance schedule:
Thursdays at 7:30 p.m.*
Fridays at 8 p.m.
Saturdays at 4 and 8 p.m. **
Sunday at 2 p.m.: March 3 and March 10
Sunday at 6 p.m.: February 3, February 10, February 17, February 24 and March 10
The final week of performances are Tuesday, March 12, Wednesday, March 13, and Thursday, March 14 at 7:30 p.m.; Friday, March 15 at 8 p.m. and Saturday, March 16 at 2 p.m.
*There are added matinee performances Thursday, Feb. 21 and 28 at 1:30 p.m. and no performances Thursday, February 28 and March 7 at 7:30 p.m.
**There are no performances Saturday, Jan. 26 and Feb. 2 at 4 p.m.
Ticket Price: $39 – 66
Visit the website for ticket and theater information.