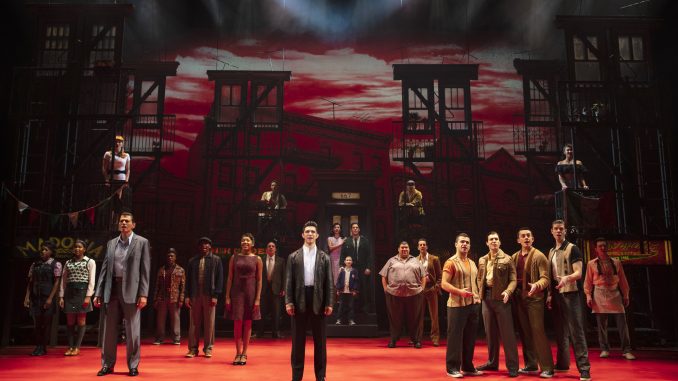 Only a few lyrics into the opening number of A Bronx Tale, "Belmont Avenue," the young narrator, Calogero (later nicknamed "C" by his boss and mentor Sonny), sets the expectations for the musical based on a one-man play by Chazz Palminteri (who also wrote the book) and music provided by Alan Menken and lyrics by Glenn Slater:

This is a Bronx tale and it's my story
The world I lived in, the people I knew
What follows is exactly as promised: two hours of slice-of-life biography about a young man torn between the steady love and working-class values of his parents, particularly his bus driver father (original Broadway cast member Richard H. Blake), and the glamour, money, and notoriety represented by the aforementioned Sonny (Joe Barbara). The show provides two Calogeros: one a crowd-pleasing nine-year-old (Frankie Leoni) who cries when the Pirates beat the Yankees, rolls craps in the back room of a bar/Mob front, and clearly articulates the appeal of Sonny's protection and guidance in a charming song-and-dance number "I Like It"; one a teenager (Joey Barreiro) who has largely chosen the course of organized crime but for Sonny's encouragement to continue schooling.

The original playwright's semi-autobiographical story plays out on the fire escape-laden set with its hand-painted backdrops and faded storefront signage, enkindling a world where young men sing on a street corner just before a vicious beating and stone-cold murder take place in front of half the ensemble. Fans of '50s and early '60s nostalgia musicals like Grease and Jersey Boys will love the sound of the show, a blend of doo-wop and Dean Martin-style easy listening, and the touring cast, especially the hard-working ensemble and young Calogero (who is still going strong, springing around and dancing, during the encore), is brimming with energy.

No one brims with energy and raw talent more than Calogero's first love, Jane. Portrayed by Brianna-Marie Bell, Jane's few numbers are scorchers thanks to Bell's incredible vocals. Jane, as one of the few African-American characters, is a part of a larger story the musical tells about racial tensions in the late'60s. The results of this are uneven: it is interesting to see Calogero's father figures represent markedly different philosophies about integration: while Lorenzo states he believes there are "good ones and bad ones," he is pointedly opposed to Calogero dating Jane; Sonny shrugs his shoulders, seemingly more holistically on board with Lorenzo's philosophy, telling Sonny that wonderful women come in all kinds to the tune of the show's best number "One of the Great Ones." However, the Act II story about beatings and retribution and raw hatred seems rushed and requires some fairly wild pivoting from its lead characters.

I would be tempted to call A Bronx Tale a "dad musical," were it not for the many audience members of all genders and ages who were thrilled to their toes by the evening's entertainment. I have to admit to generally feeling lukewarm about the musical genres on display. However, this tour company has strong performers– Barbara and Blake, in particular, are excellent both as singers and as actors–and an undeniable charm. With the audience enthusiasm at its back, I couldn't help but be pulled along.
A Bronx Tale plays at the James M. Nederlander Theatre (24 W. Randolph) for a limited two-week engagement through March 24, 2019. Individual tickets are on-sale now and range in price from $27-$98 with a select number of premium seats available. For more information, visit the Broadway in Chicago website.
w