Given our current political climate, the notion of any kind of 'American Dream' is a bit difficult to wrap my head around. In the past couple of years, I've talked about re-locating somewhere else, to a place that's tolerant and kind to all of its inhabitants, but I know it's really just a pipe dream. Jack Perla's new chamber opera An American Dream, a Lyric Unlimited Premiere that played the weekend of March 16th at the Harris Theater for Music and Dance, reminds us again that dreams are often more like fantasies, and that our differences have more power than our similarities.
The approximately one-hour opera centers around two families, each with their own American Dream. There are the Kobayashis, a Japanese immigrant family that's settled into a peaceful life of farming on a Puget Sound island. The family of three is played by bass-baritone Ao Li as the father, mezzo-soprano Nina Yoshida Nelsen as the mother, and soprano So Young Park as the young daughter, Setsuko. Their lives are forever interrupted with the bombing of Pearl Harbor and the sudden presence of American veteran Jim Crowley, played by baritone Christopher Magiera and his wife Eva, a German Jew played by mezzo-soprano Catherine Martin.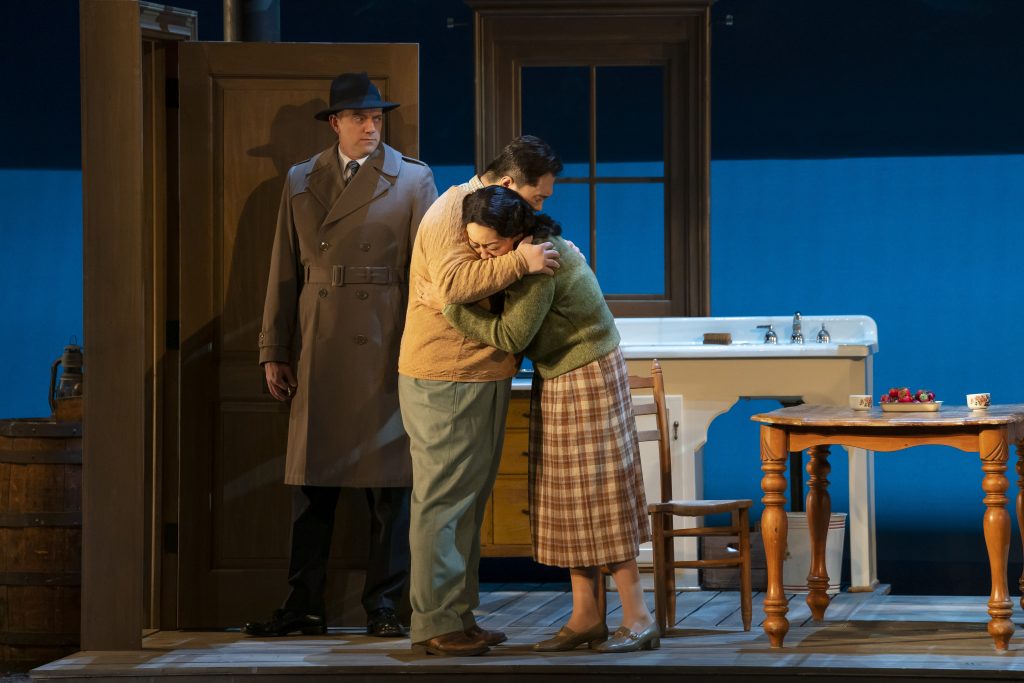 The Kobayashis' dream is shattered with Roosevelt's executive order 9066, which called for the displacement of all citizens of Japanese dissent to leave their homes and live in internment camps where they would be less of a 'national threat'. Eva's dream, to save her family and bring them to the United States is decimated when she finds out they had already been killed by the Nazis back in Germany. Instead of seeing the similarities between the two families, of being torn apart because of prejudice and fear, they turn it on each other with Jim cheating Kobayashi out of his land and Setsuko stealing a letter that arrives for Eva.
The music that introduces us to the Kabayashi family in their small but cozy home, beautifully designed by Andrew Boyce, is haunting and seems to foreshadow a journey of some kind. I'm admittedly an opera novice and I had never seen an opera performed in English.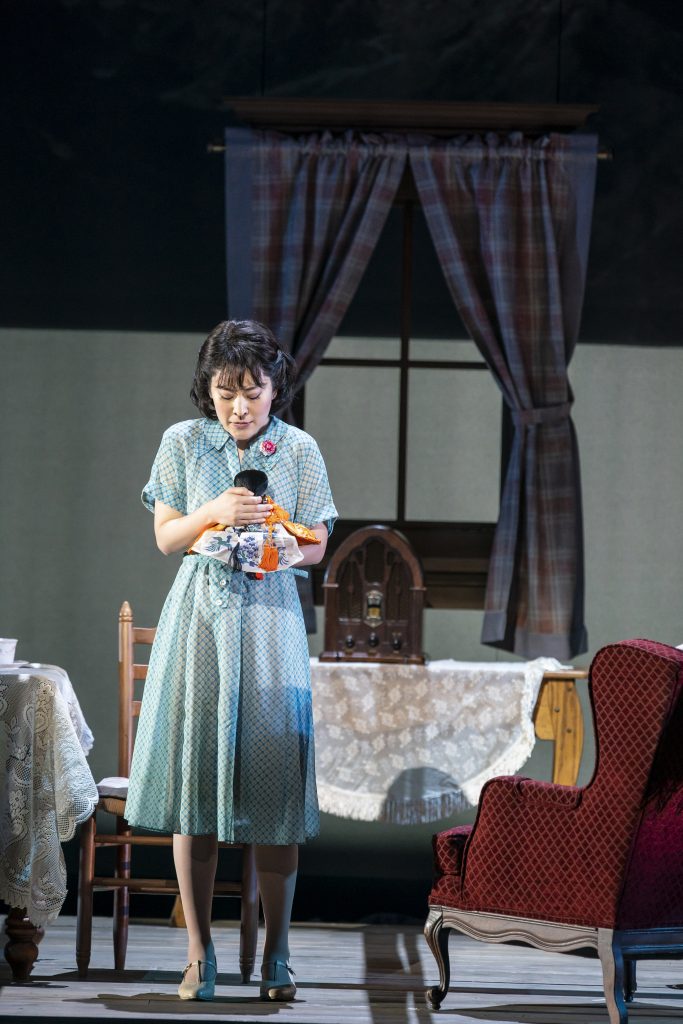 For me, it was like having poetry sung in beautiful voices. I was surprised to find that I needed the aid of the supertitles in order to understand the 'accent' of operatic singing. The lyrics are quite simple, but become so powerful and dramatic with the addition of the music and singing. Ms. Park's voice was particularly pure, and Ms. Nelsen's was very effective at portraying her grief and sadness.
The only thing I wished for in the end was for the show to be longer so that it could fully explore the events and timespan of the story, which was quite ambitious for such a short opera. Although everything about the production, from the gorgeous costumes designed by Izumi Inaba, and the dramatic lighting, designed by Lee Fiskness, I wanted to know the characters better. In reflecting on the characters, though and given the theme of the 'American Dream', they could be a myriad of people from different times and places. As I left the theatre I wondered how far the human race has come since World War II. The answer to me is clear: not nearly far enough.
About Lyric Unlimited: Lyric Unlimited is a long-term, evolving initiative that encompasses company activities that are not part of Lyric's mainstage opera season. Its mission is to provide a relevant cultural service to communities throughout the Chicago area and to advance the development of opera by exploring how opera as an art form can resonate more powerfully with people of multiple backgrounds, ethnicities, and interests. It also leads the development of innovative partnerships with a wide range of cultural, community, and educational organizations to create a breadth of programming through which Chicagoans of all ages can connect with Lyric. In the 2017/18 season, more than 95,000 individuals participated in Lyric Unlimited programs.

For more information about Lyric Unlimited program offerings, visit the Lyric Opera Unlimited website
About Lyric: Lyric Opera of Chicago's mission is to express and promote the life-changing, transformational, revelatory power of great opera. Lyric exists to provide a broad, deep, and relevant cultural service to Chicago and the nation, and to advance the development of the art form.
To learn more about Lyric's current season, go to lyricopera.org. You can also join the conversation with @LyricOpera on Twitter, Instagram, and Facebook. #Lyric1819 #LongLivePassion