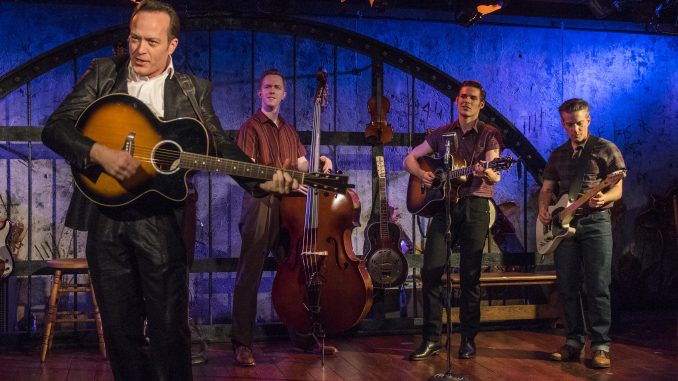 Scenic designer Michelle Lilly looked into Johnny Cash's history and has represented it through giant penny-colored cotton blossoms planted onto a gritty, graffiti-covered wall that could be in a bathroom of a music venue or a state correctional facility, and a functional rack that holds all the musical instruments the cast needs to bring that history to aural life.
Poverty, grief, addiction, love, and sympathy all played a big role in Johnny Cash's life and music, and the thoughtfully staged, engaging and moving Milwaukee Rep production of Ring of Fire: The Music of Johnny Cash captures them all in both song and spoken vignette, laid out in a somewhat chronological story represented by a young rising star steeped in old-time religion and an older, wearier soul who truly has been everywhere, man.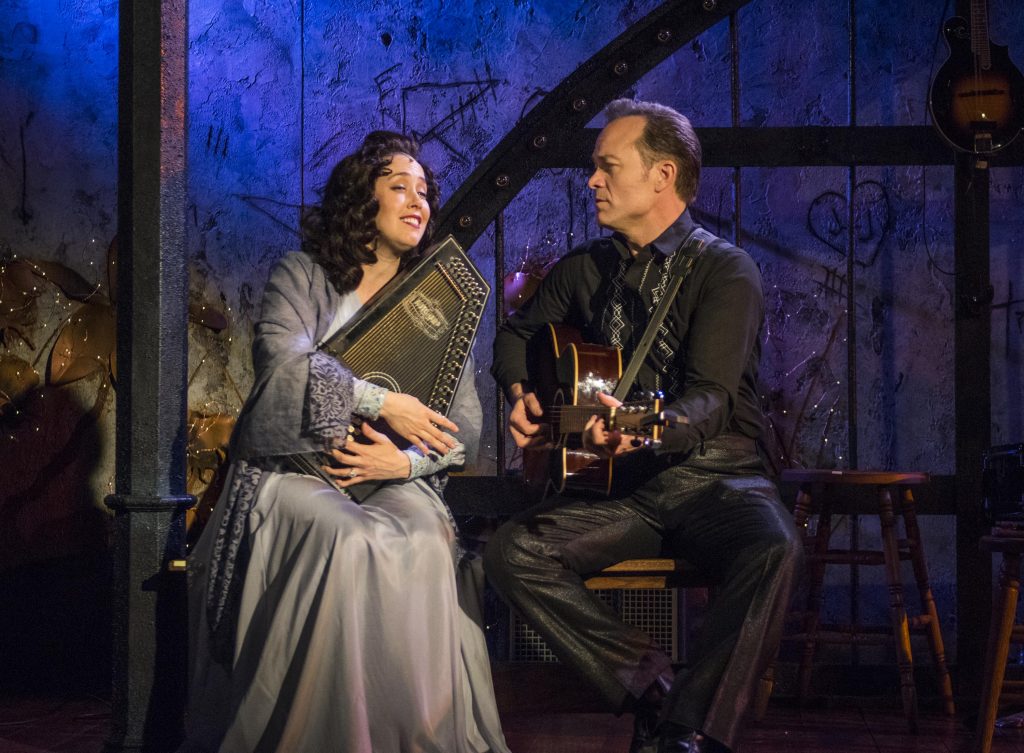 The younger, ornerier Johnny is played by a skillful Corbin Mayer and the more established, measured Johnny is embodied–there can be no better word as he's sometimes hauntingly reminiscent of Mr. Cash–by Kent M. Lewis. They're joined by James David Larson, Paul Wyatt, and Alex Keiper, who fluidly switch instruments and characters, standing in for family, band members, and record producers. The result is an intimate and thoughtful portrait expertly drawn by multi-talented performers.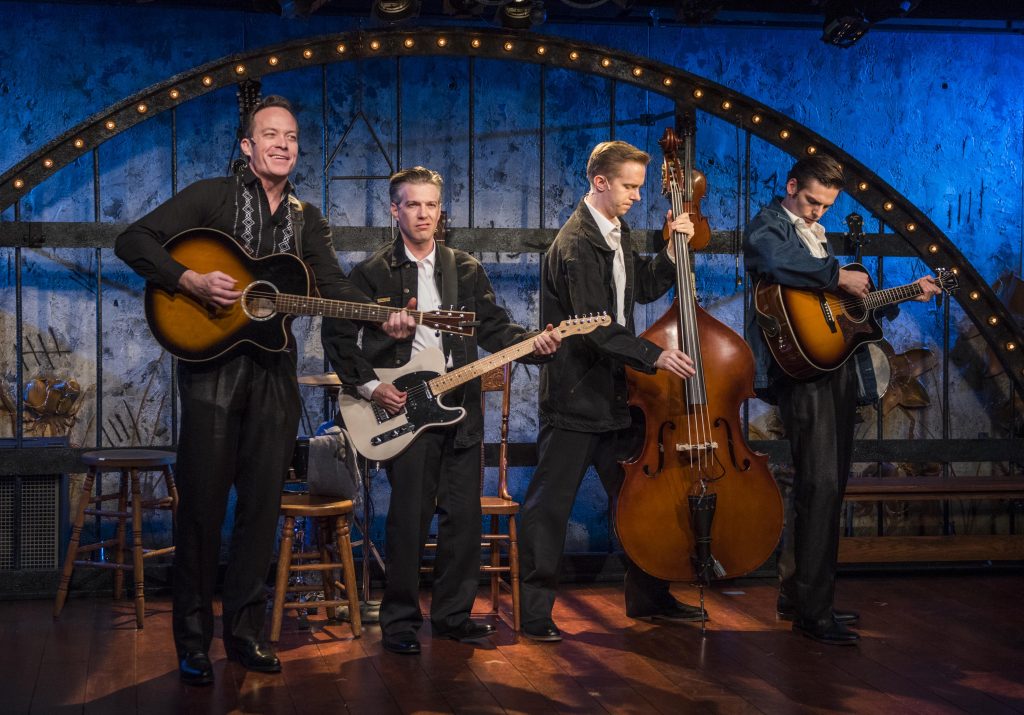 From the church hymns that formed Cash's foundation ("Sweet Bye and Bye," "Oh Come, Angel Band") to the June-inspired love songs ("Flesh and Blood," "Ring of Fire") to murder ballads ("Delia's Gone," "Folsom Prison Blues") to the novelty numbers ("Egg Suckin' Dog," "A Boy Named Sue"), Ring of Fire shows the many facets of Cash the man and musical artist. It makes for a wonderful, varied audience experience: you can truly laugh, cry, hope, and fear in the span of two hours and feel as though you have learned about what connects you personally to Cash's music and story.
As with several other Stackner Cabaret shows during Milwaukee Rep's 65th season, the evening is a chance for the multi-talented cast to play a number of instruments, take center stage, and even engage in a little audience participation–during the performance I attended, Keiper quietly fielded a compliment from a front table just before the start of Act II, prompting Lewis to joke–as Johnny frequently would with June during stage shows and their short-lived variety show–"Something you'd like to share with the class?" Space and staging seem to encourage the audience to "lean in," as the opening announcement asks one and all. Ring of Fire, like Cash's opus to a train ride as a metaphor for life, is a stirring journey, one best taken with others.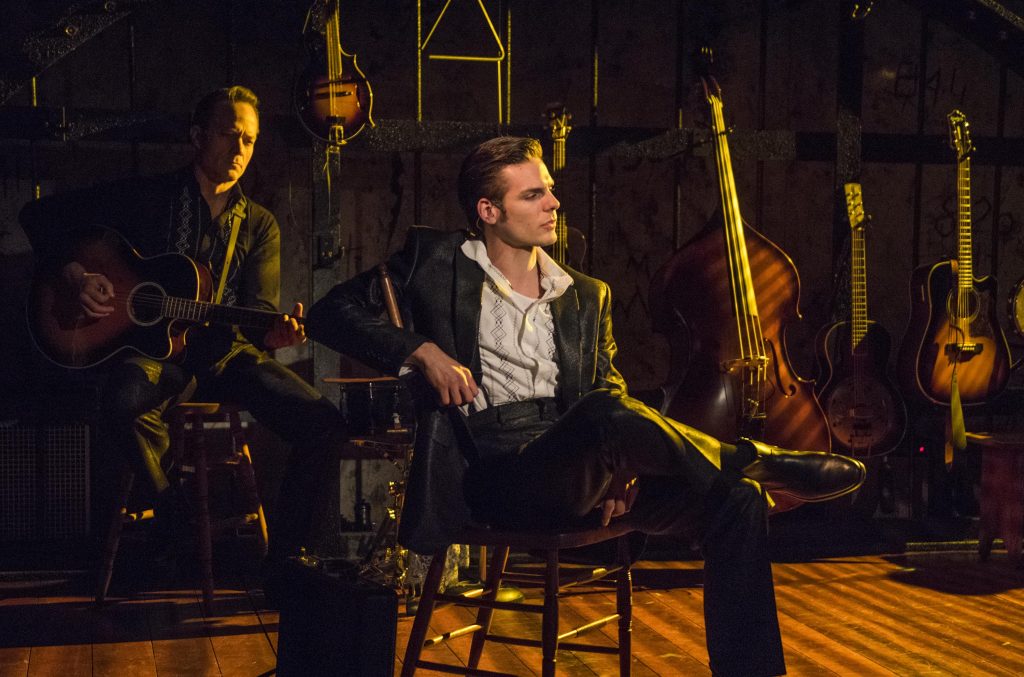 Milwaukee Repertory Theater performs Ring of Fire: The Music of Johnny Cash through May 26 at the Stackner Cabaret, 108 E. Wells St. Visit milwaukeerep.com or call (414) 224-9490.