Do yourself a favor. See West Side Story.  This coproduction of Lyric Opera of Chicago, the Houston Grand Opera and Glimmerglass Festival is remarkable, and it will be gone before you know it, on June 2nd.   It was first performed at the Winter Garden Theatre, New York in 1957, and is currently a Lyric Opera premiere.  With top flight dancing, gorgeous voices, fantastic sets, staging and lighting, West Side Story is very applicable to today's world and holds its own even as Hamilton, playing nearby, explores another immigrant story.
The background to the successful opening of a musical that ran for 732 performances and changed Broadway began with the idea of adapting Shakespeare's Romeo and Juliet. On the way to becoming West Side Story where the Sharks and Jets face off, the conflict was conceived as between Jews and Catholics and it was named "East Side Story". Ultimately, it was the book by Arthur Laurents, music by Leonard Bernstein, lyrics by Stephen Sondheim in his Broadway debut, along with the brilliant direction and choreographed by Jerome Robbins that resulted in the current e And the rest is history.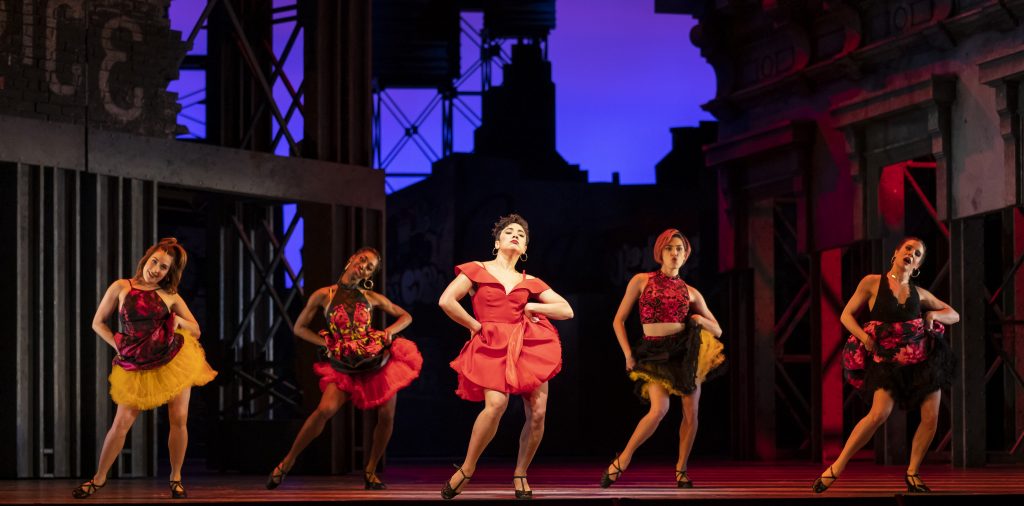 The streets of 1950's New York come alive on Lyric's stage.  The set design moves with the action and brings the audience into the story. Dance, beautifully executed, tells much of the story which begins with the rival gangs the Puerto Rican Sharks and the "white" ethnic New York Jets in competition as they danced.  I thought how great it would be if gangs could settle their rivalries with dance competition but even in this musical, it was not to be.  
It is at a school dance when Tony (Corey Cott), a former leader of the Jets, meets Maria (Mikaela Bennett), a seamstress at a bridal shop and they don't "stick to their own kind" but fall deeply in love with one another. Maria's good friend Anita (Amanda Castro) sees trouble ahead.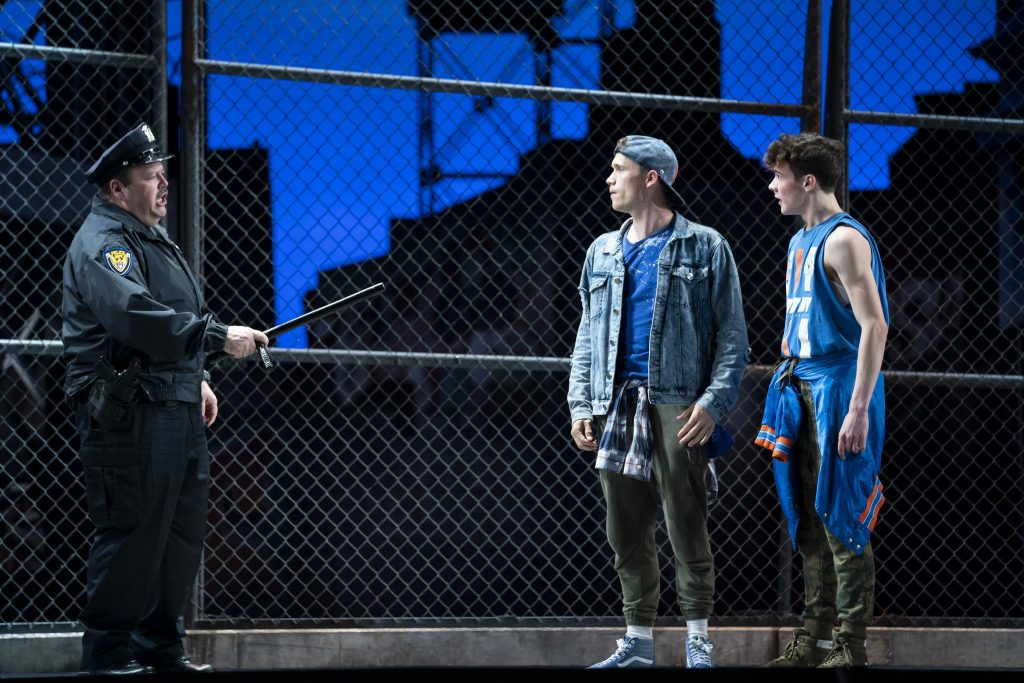 When the Jets led by Riff and the Puerto Rican Sharks, led by Bernardo plan a rumble under the highway with the winner gaining control of the streets, Maria sends Tony to stop it, hoping it can end the violence. It goes terribly wrong, and before the lovers know what's happened, tragedy strikes and doesn't stop until the climactic and heartbreaking ending.
Songs move the action forward, beautiful and recognizable. I was struck by the clarity of each word. Corey Cott's "Maria" was tender and gentle and beautiful.  Mikaela Bennett has a voice that took my breath away.  What a joy to hear "Tonight", be charmed by "America", laugh at "Gee, Officer Krumpke", delight in "I Feel Pretty" and be carried away by "Somewhere".
Embellishing the production are the original choreography by Jerome Robbins, recreated for Lyric by Julio Monge, set designs by Peter J. Davison, and perfect costumes designed by Jessica Jahn, lighting designed by Mark McCullough. In addition, and very importantly, Mark Grey is sound designer and Michael Black is chorus master. 
In an article about the creation of West Side Story, Roger Pines, Dramaturg of Lyric Opera of Chicago quotes Leonard Bernstein's daughter Jamie Bernstein.  In part she was quoted as "West Side Story was his (Bernstein's) most successful attempt to use his music to explore the difficulties we all live within our world and to use music as almost a kind of healing process. West Side Story is about hatred, intolerance, fear of strangers arriving in your neighborhood – these issues are as urgent for us today as they were back then."
Many audience members that I spoke with said this was the first time they had seen this show live. Whether you have seen this previously or this is your first time, see West Side Story at the Lyric.  You won't be sorry!
West Side Story features the original choreography by Jerome Robbins, recreated for Lyric by Julio Monge. Set designs are by Peter J. Davison, with costumes designed by Jessica Jahn and lighting designed by Mark McCullough. Mark Grey is sound designer and Michael Black is chorus master.

Performances run through June 2, 2019 at the Lyric Opera House, 20 N. Wacker Drive, Chicago. Tickets are on sale now starting at $29 and can be purchased at Lyric Opera or by calling 312-827-5600