One of the greatest things about musical theatre is when you walk away, fully entertained, stunned by every performance, rockin' and rollin' till you get home, you also learn facts you never knew. Even me, a R&R, Country Girl aficionado learned about music history.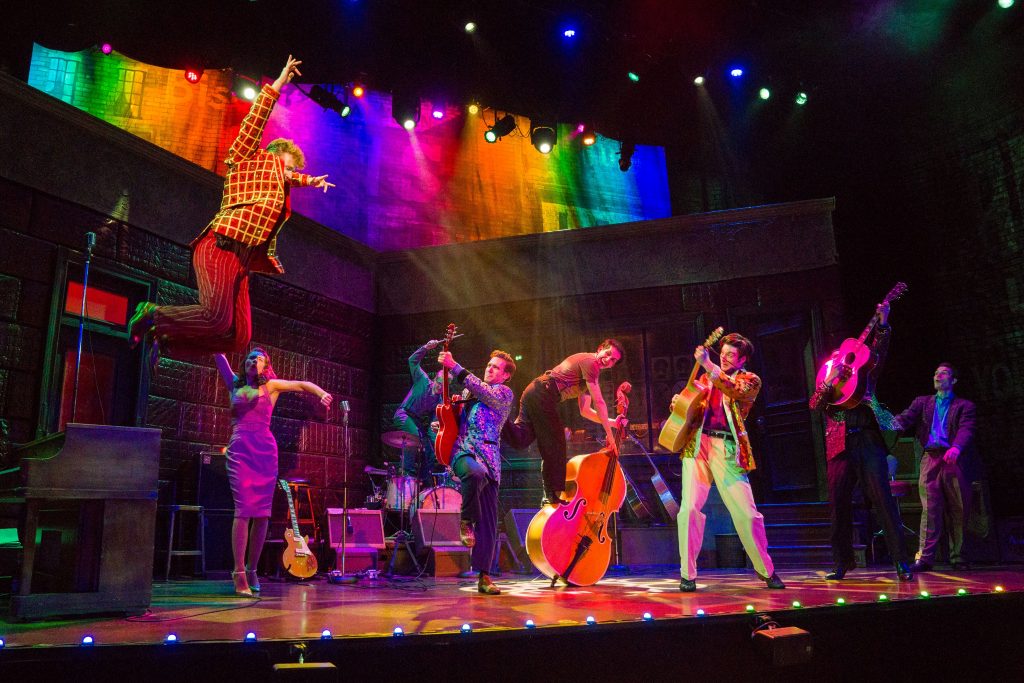 Last evening, May 18th, was the knockout opening night of Million Dollar Quartet at the beautifully- redone and intimate Argyle Theatre in Babylon. Yes, Long Island has some spectacular theatre and some are literally around your corner or within a short drive. The Argyle is a must see.
The Argyle Theatre began its' 2nd smash year with Million Dollar Quartet. Opening night just blew me away. Give me rock and roll any day, along with country music. Put some of the most talented players on a beautifully-designed stage, give them their instruments and WOW, you've got an evening of music and fun. Oh, what did I learn?
Million Dollar Quartet is about the ONCE-IN-A-LIFETIME impromptu jam session held on one of the most famous days in music history, December 4th, 1956. Every musician on that stage was not yet born, but they were able to relive JERRY LEE LEWIS, CARL PERKINS, JOHNNY CASH, & ELVIS, AS IN ELVIS PRESLEY. These 4 groundbreaking musicians got together at Sun Record Studios in Memphis, creating music magic. JERRY LEE (as he was called), (brilliantly played by Taylor Gray), was a young, out-of-the-box, multi-talented pianist. But, as we all know, he wasn't just a pianist, he was THE piano genius, hitting those keys not only with his hands and feet, but sometimes with his, shall I say, derriere. To this day, JERRY LEE walks on water with "A Whole Lotta Shakin' (Still) Goin' On,'
Elvis just jammin? That day, he was just 'one of the guy's, crooning and shaking the only way Elvis could. Sadly, as we all know, Elvis died at age 42, in 1977. I had the pleasure of seeing him in Vegas shortly before his death. He swore to Sam Phillips, owner of Sun Records (played by John Glowacki) that he was 'never gonna play Vegas after that day.' Who knew?
Johnny Cash (remarkably portrayed by James Penca), had the voice and talent of Mr. Cash. I became a Johnny Cash fan opening night.
Carl Perkins (played by Morgan Bernhard) taught me much about this music legend and how his talent had it's good and bad times during his career. Mr. Perkins passed at age 65, in 1998.
Diane (played by Callee Miles) was outstanding in both voice and acting, as she portrayed Elvis' girlfriend at that time. Brother Jay (Jason Cohen) and Fluke (Anthony Genovesi) played bass and drums to complete this never-to-happen-again event.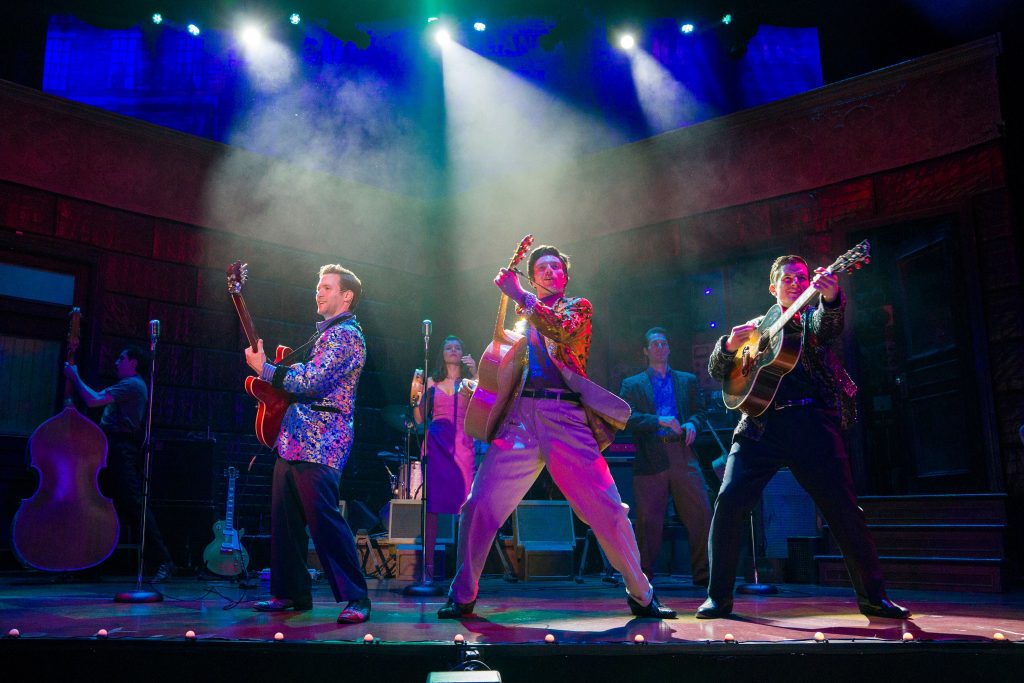 The Creative Team of Mark and Dylan Perlman, Managing Directors, and Adam Pelty Director, should be proud of this productin of Million Dollar Quartet.  This was, indeed, a Broadway Quality Production.
Based on Original Scenic Design by Derek McLane and Based on Original Costume Design by Jane Greenwood, the creative team for Million Dollar Quartet includes Scenic Design by NETworks, Costume Coordination by Bobbi Morse, Lighting Design by John Salutz, and Sound Design by Carlos Dias, Jr. The Production Stage Manager is Krista Swan. The Casting Director is Michael Cassara, CSA.
The Argyle Story:
The Argyle opened in 2018. You can expect professional Broadway-caliber productions year-round, concert and comedy acts, specialty shows, film series, educational programming and so much more.
The historic theatre at 34 West Main Street in the heart of Babylon Village has undergone extensive renovations to restore the former movie theater to its original glory as a single theater with an orchestra and balcony for live theatrical events.
The build-out includes a new stage and three-level backstage, a new loading dock, a recessed orchestra pit, and state-of-the-art theatrical lighting, sound and rigging systems.
Million Dollar Quartet Crew thanks Presenting Sponsor: FORERUNNER TECHNOLOGIES. INC.
Address of The Argyle Theater is:
34 West Main Street
Babylon, New York 11702 Phone: 631-230-3500 – 844-631-5483 – Box Office hours: Monday-Sunday 10-6 (Extended hours during showtime)
Million Dollar Quartet runs through June 23rd. The Show will play the following performance schedule: Thursday at 7:30 p.m., Friday at 8:00 p.m., Saturday at 3:00 p.m. & 8:00 p.m., and Sundays at 2:00 p.m. with Special Added Performances on Wednesday, June 12 & 19 at 7:30 p.m. PLEASE NOTE: There are no Monday, Tuesday, or Wednesday performances.
Legally Blonde begins its run on stage from July 11th to August 25th
Upcoming theater productions include: The Full Monty, Miracle on 34th Street, The Little Mermaid, Cabaret
The Argyle Theater's Children's Theater is proud to present:
James & the Giant Peach – running from May 25-June 23, 2019
For more information on tickets, dates, pricing and upcoming shows visit: