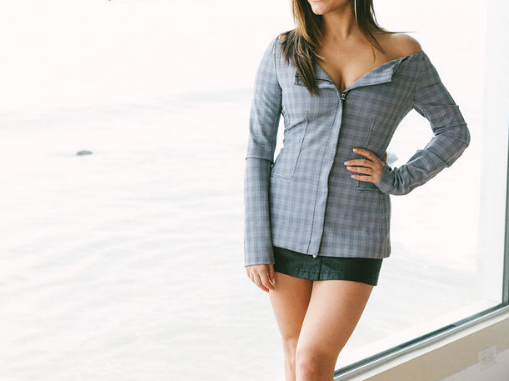 Recently, Shiseido held a Japanese superfood-inspired tasting and demo led by Celebrity Chef Shirley Chung (Ms. Chi Café) at the Shiseido Malibu Beach House in Malibu, California.
The seated event celebrated the re-launch of Shiseido's WASO skincare line – exclusively launching at Sephora – which uses the power of superfoods and botanicals known to promote beauty and health. Tastemakers and celebrities such as Actress Cassie Scerbo (The Last Sharknado: It's About Time) enjoyed light bites and tonics while testing out J-beauty products against an oceanside view. Jenn Harris, Senior Writer at the LA Times Food Section, introduced Chef Shirley who showcased her famous Honey Roasted Heirloom Carrots with Whipped Tofu and Yuzu Aioli.
With WASO-inspired superfood ingredients displayed in front of her, Chef Shirley proceeded to walk attendees through the history and process of creating her famous dish. Up next was her Magical Mushroom Garden Salad which involved guests making and tasting their own unique style of salad. Lastly, guests wrapped up the demo by learning how to prepare and wrap Wontons with Honey Yuzu Vinaigrette and Chili Oil.
Menu Items
Honey Roasted Heirloom Baby Carrots with Whipped Tofu and Yuzu Aioli
Magical Mushroom Garden Salad: Marinated and Roasted Mushrooms, Carrot Ribbons, Sweet Gem Lettuce, Loquat and Almond Butter "mud", Yuzu vinaigrette, and Crispy Tofu Croutons
Wontons with Honey Yuzu vinaigrette and chili oil: Vegan wontons filled with roasted mushrooms, carrots and tofu. Pickled carrots, and micro cilantro
To purchase Shiseido's WASO skincare products, visit Sephora.com. Get social about WASO products on Instagram – @Shiseido, @Sephora, Twitter – @ShiseidoUSA, @Sephora, Facebook – @ShiseidoUSA, @Sephora #WASO #WASOShiseido.