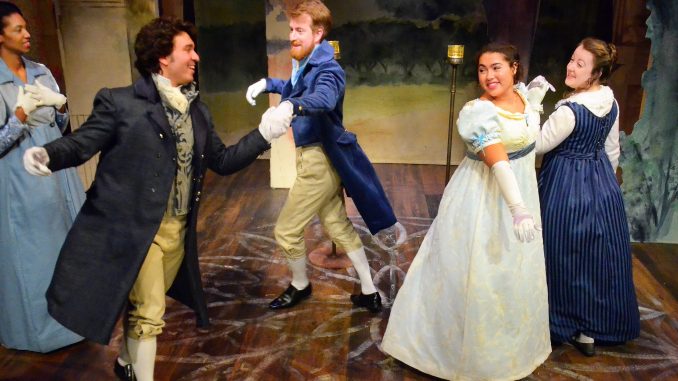 Chicago's Lifeline Theatre presents a brand new stage version of Emma, adapted by Lifeline Theatre ensemble member, Phil Timberlake, and directed by Lifeline Theatre ensemble member, Elise Kauzlaric. Making his Lifeline playwriting debut, Timberlake joins Kauzlaric, director of 2012's Pride and Prejudice and 2016's Northanger Abbey (Non-Equity Jeff nomination: Best Production–Musical), for a fresh, intimate look at this beloved Austen romp.
After a successful experiment in matchmaking, Emma Woodhouse is convinced she can do no wrong. The high-spirited socialite inserts herself in the love lives of everyone around her, meddling despite their wishes, and leaves a tangle of heartbreak in her wake. To restore happiness to her fractured world, Emma must swallow her pride, and learn to value the needs of others over her own desires as she navigates the blunders of the heart in this world premiere adaptation of the 1815 romantic comedy by Jane Austen.
The adaptation of Emma was a delightful theater experience. The play captured the true spirit of Jane Austen's original novel, with warmth, comedy, and wit, while also bringing a fresh perspective to the story. The big standout of the production was the talented cast with guest artists Peter Gertas (Frank/Elton), Jeri Marshall (Jane), Maddie Pell (Harriet), Emma Sipora Tyler (Emma), and Cory Williamson (Knightley). Understudies were Aissa Guerra, Royan Kent, Jamie Sandomire, Sana Selemon, and Zach Twardowski.
The cast of five (not including the title character of Emma) all rotated and shared several different roles throughout the play, whether it was twirling a complete 360 to put on a pair of glasses, or waving a fan, or hobbling on a cane, to comically and brilliantly portray each character in Jane Austen's novel. Though my friend and I were captivated by the acting skills of the performers, the actors changed roles with the speed of light, as well as sharing the same roles. Luckily for us, we knew the novel and storyline very well, but for Austen newbies, we both wondered if the constant shifting of performer/character might be a bit confusing.
Overall, whether you have read the novel, or just seen the film adaptations, the entire play is quite the experience and provides wonderful entertainment. The fast character and personality changes, though at first confusing, are impressive, and one must applaud the actors for keeping track of whom they are playing/transforming into during each scene! The costumes, set design, props, and staging, were also simple, yet impressive and creative. The backdrop for the play utilizes minimalistic items that provided an insight into early 19th century English homes, gardens, and countryside.
As in the novel, I frequently noticed elements of the play that you see in the modern film adaptation of Clueless, starring Alicia Silverstone. Silverstone plays Cher, Emma's character, and just like Emma, Cher believes that she is extremely talented at fixing up all her friends, though most of the matches go horribly wrong, or are romantic misunderstandings. Cher and Emma both have good intentions for their friends-not malice-but learn later in each story to not interfere with other people's love lives.
Photos: Suzanne Plunkett
Lifeline Theatre presents Emma runs May 24 – July 14 at Lifeline Theatre, 6912 N. Glenwood Ave. (free parking and shuttle; see below).
Regular performance times (June 6 – July 14) are Thursdays and Fridays at 7:30 p.m., Saturdays at 4 and 8 p.m., and Sundays at 4 p.m. Ticket prices are $40 for regular single tickets, $30 for active and retired military personnel (with ID), $30 for seniors, $20 for students (with ID), $20 for rush tickets (available half hour before show time, subject to availability), and $20 for previews. Group rate for 12 or more is available upon request. Tickets may be purchased at the Lifeline Theatre Box Office, 773.761.4477, or by visiting the website.
Lifeline Theatre is accessible by CTA (Red Line Morse stop/busses) and free parking is available at Sullivan High School (6631 N Bosworth Ave — the lot is located on the corner of Bosworth Ave and Albion Ave, with the entrance on Albion) with free shuttle service before and after the show. Street parking is also available. Lifeline is accessible to wheelchair users and visitors who need to avoid stairs.
The production runs approximately 2 hours with an intermission. The novel will be on sale in the lobby.
Performances with Open Captioning on June 15 and July 12
Performance with Touch Tour and Audio Description on June 16