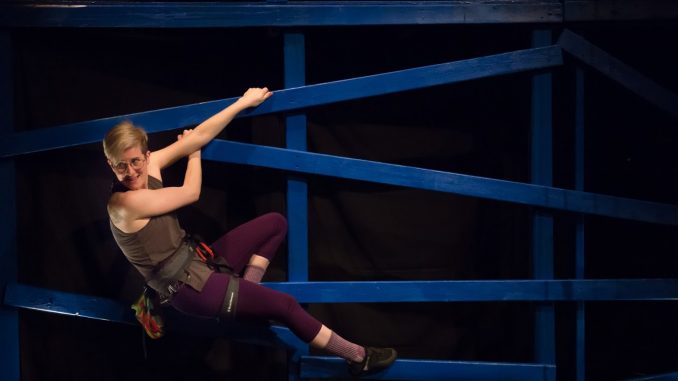 My longest-held job to date was at an indoor climbing wall in my hometown, where I worked on and off through high school and college and for a few years after graduation. I never felt any particular affinity for climbing, or any sport for that matter; I got the job through straight-up nepotism. My mother, who does love to climb, taught me when I was fourteen, and I enjoyed it for a while until belaying became a job I didn't particularly care for and I developed a fear of heights around sixteen that caused me to panic once I got more than about six feet off the ground.
Still, despite never choosing to climb myself, I knew the best way up every route and could shout advice up at climbers with almost rote accuracy. It was my many years of experience with the subject matter that drew me to Grace, Or the Art of Climbing by L.M. Feldman, currently in its Midwest premiere at Brown Paper Box Co., directed by Erin Shea Brady. In it, protagonist Emm tries to cope with a bout of depression brought on by a breakup with her fiancé by moving back to her childhood home and getting really into rock climbing. She starts at first by bouldering in the garage, and soon moves to a local climbing gym, where she shanghaies employee Sims into becoming her coach.
This is a quiet, meditative sort of play. Emm speaks directly to the audience, her inner monologue on display throughout. The development of her rock climbing skills parallels her emotional journey neatly, and the story as a whole works. As a portrayal of depression, it is unjudgmental, not overly theatrical, and true to my own experience with the disease. Emm wakes up late. She struggles to complete basic tasks like laundry. She doesn't call her friends back even though she wants to. But she is allowed to be more than her illness, a whole and complex person with motivations and dreams and a life that is in every way affected by, but certainly not defined by, her depression.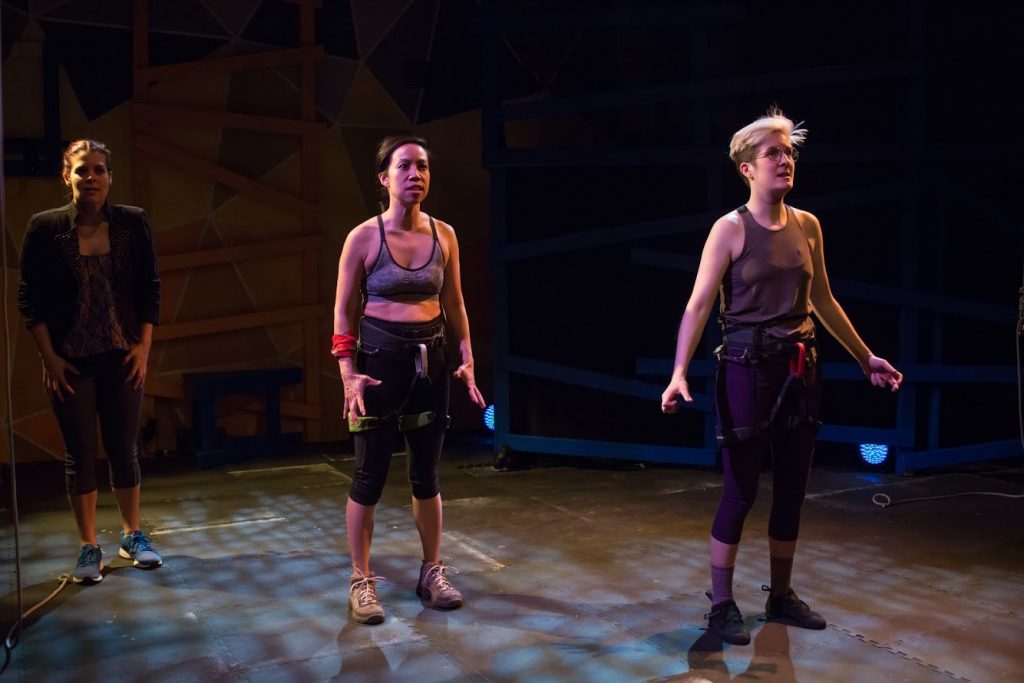 I enjoyed the movement elements of the play, designed by movement director Berit Godo, which rang true to my knowledge of rock climbing. The movement also meshes smoothly with scenic design by Evan Frank, which makes clever use of limited space to allow for multiple locations to climb and inspires the imagination to the idea of a garage, an indoor climbing wall, and an outdoor climbing environment with only a few set pieces.
Alex Molnar does an excellent job as Emm, portraying her character's deep sadness, her determination to pull herself out of her depression, and her many inner conflicts with nuance and, dare I say it, grace. My favorite performance, though, was that of Greg Mills, who plays Emm's father Abe. Not only does he nail the absolute dad-ness of the character—the gentle teasing, the sincere belief in the power of bananas or "nanners," the harsh but fair commentary on Emm's nebulous future plans, and most of all, the unfailing love for his daughter—but he also undertakes a significant physical transformation later in the story that he performs with remarkable precision.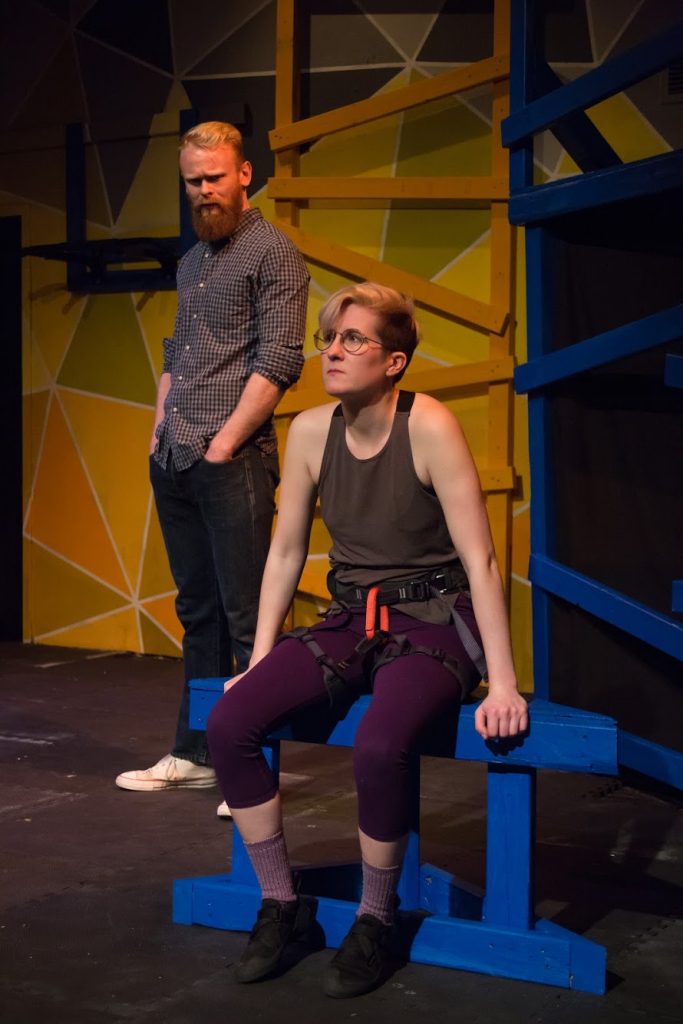 Throughout the show, Emm has a variety of conversations with characters who aren't actually with her—conversations that take place exclusively inside her head. The device is intriguing; sometimes the audience isn't let in on the fact that a conversation is happening only in imagination until partway through. However, it also becomes unclear in places what's really happening and what isn't, to the point that I'm still not sure if Emm ever has an in-person conversation with her ex-fiancé.
In conclusion, seeing this play is a perfectly pleasant way to spend an evening. Although it's not a revolutionary piece, it's well-written and well-executed, and I for one enjoyed it.
Bias warning: Director and Brown Paper Box Co. member Erin Shea Brady and I attended the Goodman Theatre's Critics Bootcamp together and have maintained a friendly relationship since.
Ticket Information
Location: Stage 773, 1225 W Belmont Ave. Chicago, IL 60657
Dates: Thursday, June 6-Sunday, July 8, 2019
Tickets: On sale now at the Brown Paper Box Co. website
All photos by Zach Dries.