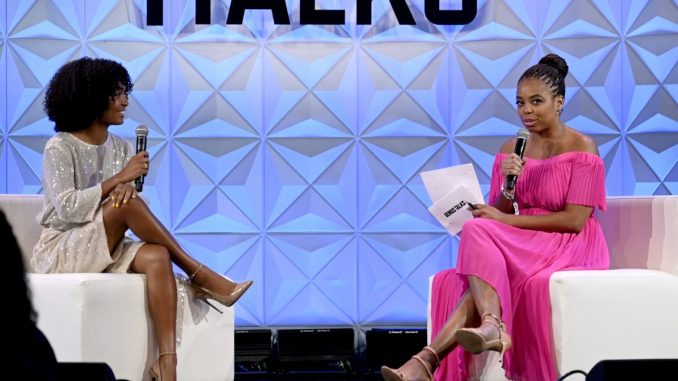 Yara Shahidi has ALWAYS been one to watch. At such a young age the starlet continues to motivate and inspire many communities. This past weekend she took part in the BET Experiences' Genius Talk sector to shed some light on her work, and of course leave a bit of inspiration for many.
Oprah once stated that Yara Shahidi is, the reason she has hope for the future and hopes that one day she will run for President. You know you've made it when Oprah herself co-signs on your efforts! "I have been the recipient of so much intergenerational support," states Shahidi. "Everybody has made space for us to be here and be of such support, (and) I'm always thankful for (that)."
Although Shahidi comes from a creative family, it's her true passion that has kept the momentum going. When asked by moderator Jemele Hill if black women in Hollywood are setting a new bar, Shahidi responded with of most certainty the strongest answer possible.
"Most definitely! You see it not only in Hollywood but in politics, and I love the fact that I'm in this industry when i'm in it," Shahidi explains. "(We) really want to support each other, and those are people who will intentionally set up time and space to be of support through advice or presence. We are constantly creating space for each other. The goal is to not put out a project but to open doors. What is the purpose of this movie if the buck stops there. The goal is to say with this project we are making it easier with the next content creator."
The trend-setter has always been vocal about using her platform in order to continue to open doors while discussing the importance of diversity on and off stage and in all aspects of life.

"I think when you move through the world with the misconception that we're in competition with one another," she opines. "And it's not that we woke up one day and said, "Do you know what? I decided to be in competition with you," but that's the world we've been given. We've been given a world in which it's been affirmed and re-affirmed time and time again that the person across from you is somebody that could take an opportunity from you." She continued, "I think what he's established, and fortunately everybody else that I've had the pleasure to work with, has established, is the fact that you are not in competition. And the synergy that you can create with two people or multiple people actually leads to more opportunities," Shahidi concluded.
Although this is it for Genius Talks, tonight is the closing night for the performances for BET Weekend, tomorrow is the main event, BET Awards! Click HERE to see our coverage!