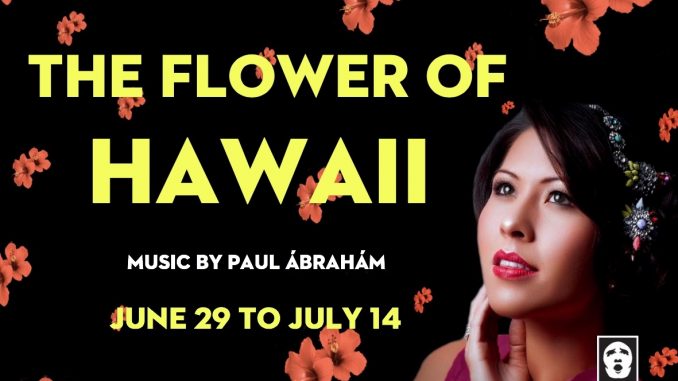 Folks Operetta presents Paul Ábrahám's exotic jazz operetta, The Flower of Hawaii directed by Amy Hutchison, with a live nineteen-piece orchestra conducted by Anthony Barrese featuring former Ms. Illinois Marisa Bucheit (2014) as Princess Laya/Suzanne, currently playing at Stage 773, 1225 W Belmont Ave until July 14th. The production is charming and compelling with the glamour and exuberance of the Golden Era of Hollywood musicals. What a wonderful opportunity to accept the Folks Operetta's invitation to "escape to paradise for this unique celebration of European operetta, American jazz and Hawaiian guitar."
The story was inspired by "Princess Ka'julani" of Hawaii. Remarkably, the three Jewish artists from Berlin, who wrote this operetta, composer Paul Ábrahám' and writers Fritz Lohner-Beda and Alfredd Grunwald had never been to Hawaii. The story spoofs American colonialism, but not so seriously as to ruin the escapist entertainment and the music that celebrates the fox trot, waltzes and marches. The libretto is humorous and romantic with lots of twists and turns. There are multiple love stories including Laya, a Hawaiian princess, who must choose between the American naval officer she loves and the Hawaiian prince to whom she was betrothed as a child. I was fascinated by the fact that at the time this was written, Hawaii had only been a protectorate of the U.S. for thirty or so years.
Paul Abrahám (1992 – 1960) was a Hungarian composer who combined operetta with jazz, and the result was a string of hugely popular shows: Vicktoria and her Hussar (1930), Flower of Hawaii (1931) and Ball at the Savoy (1932.) It was Abrahám's unique blend of European waltzes and American jazz idioms that changed the course of operetta and brought him fame and fortune.
Ábrahám's work was prominent between 1929 and 1932, when, in addition to three of the most successful operettas of the time, he composed numerous film scores and popular songs. His music was heavily influenced by touring African-American jazz bands that had taken 1920s Berlin and the rest of Europe by storm. With the rise of the Nazis, he was forced to work in Vienna and Budapest and finally, the U.S.
This production is part of Folks Operetta's Reclaimed Voices Series and it is an absolute delight. To me it fulfilled its promise of a Hollywood Golden Era production. I enjoyed the wonderful set, amazing voices, fantastic choreography and dancing, costumes that were perfection and a wonderful orchestra. Apparently, it was the introduction of the operetta that required performers to be good at acting, singing, and dancing. Today, that "triple threat" is expected in musicals that come our way.
The cast members of The Flower of Hawaii were demonstrably multi-talented and a joy to experience and they are: Rodell Rosell(Prince Lilo-Taro); Marisa Buchheit(Princess Laya/Suzanne); Nick Pulikowski(Captiain Stone); Teaira Burge (Bessie); William Roberts(Buffy); Trent Oldham(Jimmy Fox); Angela Yu(Raka); Robert Morrissey(Governor); Benjamin Burney(Kaluna/Bobby Flipps); Benjamin Kawsky(Sunny Hill); Jordan Beyeler(dancer); Ivory Leonard(dancer); Ysaye McKeever(dancer); Athena Kopulos(feature dancer/ensemble); Sarah Ruth Mikulski(Bessie understudy/ensemble); Clara Imon Pedtke(ensemble); Elena Avila(ensemble); Adrianne Blanks(ensemble); Cydney Washington(ensemble); Camryn MacLean(apprentice/ensemble); Anwar Mohammed(apprentice/ensemble) and Julian Lee-Zachies(apprentice/ensemble).
Enhancing the performance were the crew of The Flower of Hawaii including: Anthony Barrese, conductor; Amy Hutchison, stage director/editor; August Tye, principal choreographer; Ressie Davis, choreographer; Eleanor Kahn, set designer; Patti Roeder, costume designer; Eric Watkins, lighting designer; Peter Schwob, technical director, Kayla Kroot, props; Joseph Frantzen, assistant manager/editor; Antoliy Tochinskiy, rehearsal pianist and Hersh Glagov, translator/lyricist/editor.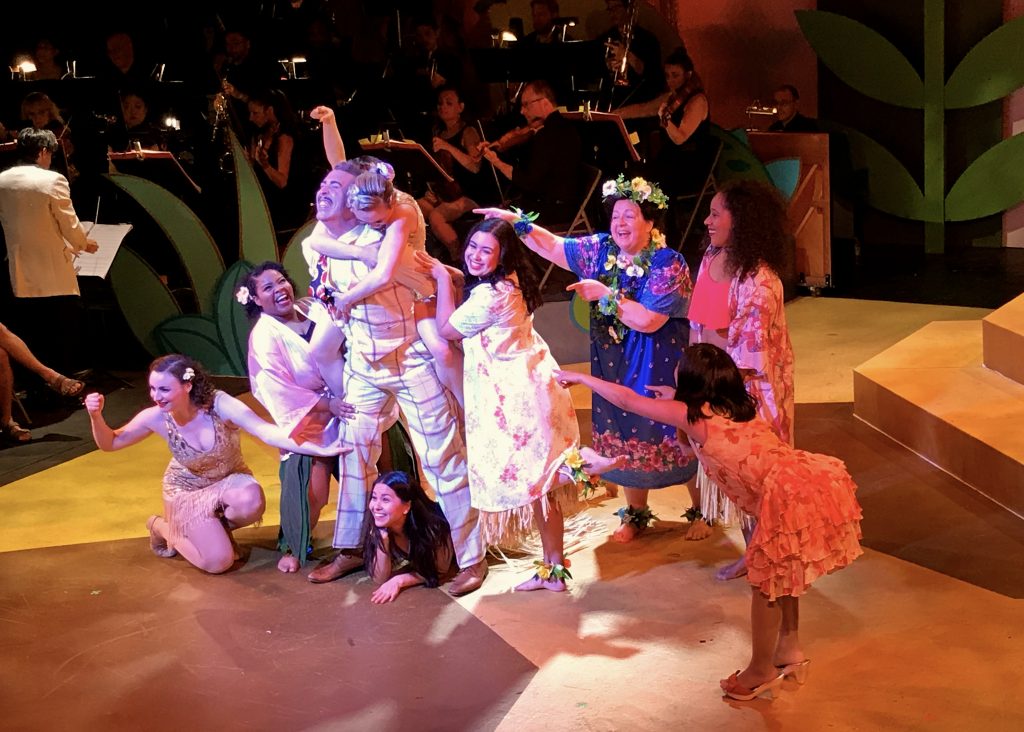 ABOUT FOLKS OPERETTA
Folks Operetta is a 501(c)(3) non-profit theater company devoted to the nurturing of live operetta through articulate and dynamic productions. In the belief that the arts serve to illuminate the human condition, Folks Operetta is dedicated to the revival and development of operetta, a popular and accessible form of music and theater for general audiences. In particular, the Folks Operetta concentrates on producing both Viennese and American operettas from the early 20th century.
Performances of Ábrahám's The Flower of Hawaii continue on a regular weekly schedule: Fridays and Saturdays at 7:30 p.m. and Sundays at 2 p.m. Tickets range from $30 – $40. To purchase tickets or for more information, please visit the Folks Operetta website.
.
# # #
All photos: Courtesy of Folks Operetta