Head Over Heels is a queer reimagining of Sir Phillip Sidney's 16th century text The Countess of Pembroke's Arcadia set to the music of the hit eighties rock band The Go-Gos. On paper, it makes absolutely no sense. But if the outrageous success of Hamilton has taught us anything, it's that concepts can sound absurd on paper and still be spectacular in execution, and Head Over Heels, currently in its Chicago premiere at Kokandy Productions, definitely fits the bill.
The story starts in the fantastical land of Arcadia, where a supernatural "beat" is supposedly the sacred phenomenon responsible for the kingdom's many years of happiness. While "We Got the Beat" is a bop and a great opener for a musical, the continued references to "the beat" are grating in the way Game of Thrones' repetition of the phrase "bend the knee" is; surely we could have chosen a different phrase or else let that idea go altogether.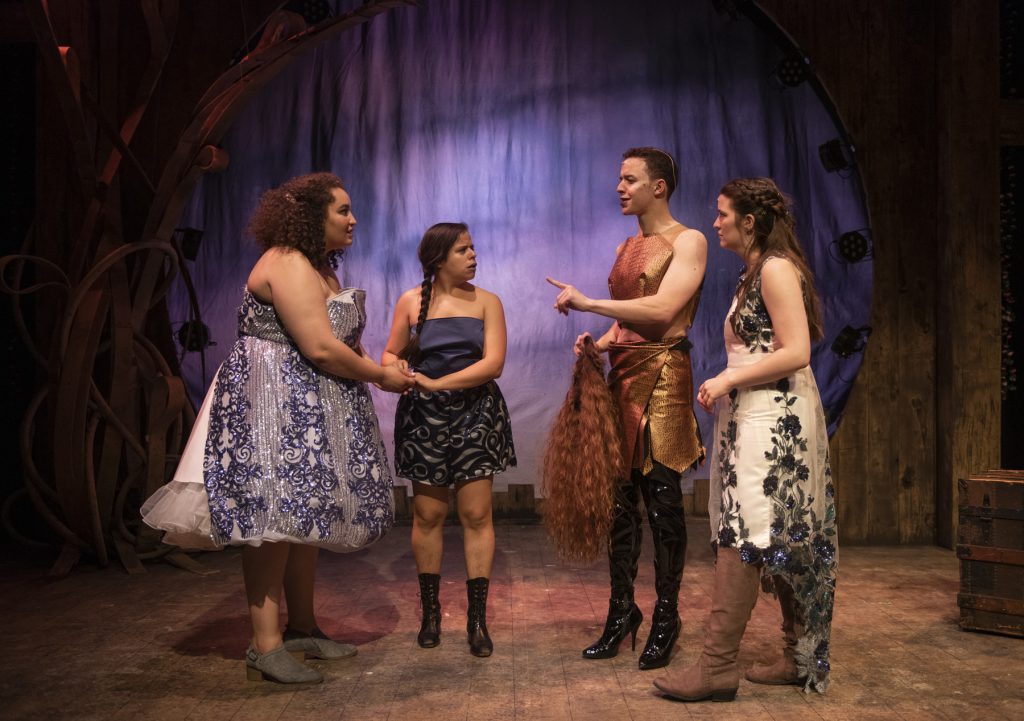 Still, Arcadia is rife with vibrant, sparkly characters, including the king and queen, their two daughters, a shepherd, and a father/daughter servant pair. The younger daughter Philoclea loves the shepherd Musidorus, but the union is forbidden by tradition, as manifested by her father. Beautiful Pamela meanwhile, has rejected wave after wave of male suitors, also to her father's disappointment. The king goes to visit Pythio, the nonbinary Oracle of Delphi, and hears four prophecies which, if all come to pass, will result in the destruction of Arcadia through the loss of the precious beat (sigh). Instead of following the oracle's advice or being honest with his family, the king decides instead to take his court to Bohemia and thwart the prophecies through careful vigilance (this goes about as well as expected). Musidorus, at the suggestion of the Oracle, disguises himself as an Amazonian warrior, and shenanigans ensue as miscommunication and mistaken identity run amok.
Remember when Audra McDonald played Mother Abbess in the live TV version of The Sound of Music and "Climb Every Mountain" went from the most skippable song on the soundtrack to the highlight of the show? Something similar happens here. While tunes like "Vacation" and "Our Lips Are Sealed" are popular for a reason, the musical has to be fleshed out with some of the lesser known, and sometimes pretty mediocre, songs by the Go-Gos, but the gorgeous voices and strong acting of the performers make even the most so-so tunes enjoyable. "Automatic Rainy Day," for instance, a song I would probably skip if it came up on Spotify, becomes a "Take Me Or Leave Me"-esque delightfully angry breakup song in the hands of Bridget Adams-King, who plays Pamela, and Deanalís Resto, who plays Mopsa.
Indeed, Adams-King and Resto's uncompromisingly fierce performances would be enough to carry the show on their own, but the rest of the cast is just as strong, including a bright, energetic ensemble. Caitlyn Cerza flexes both contemporary and operatic singing styles with her sweet performance as Philoclea; Jeremiah Alsop is deeply endearing as the cross-dressing Musidorus; Liz Norton is bold and compelling as Queen Gyncia; and Parker Guidry absolutely slays as the mysterious and extraordinarily fabulous Pythio. Costumes by Uriel Gomez are just plain gorgeous to look at, especially the attire of the royal family, and blend the medieval fantasy setting with eighties fashion in effective and unexpected ways. I also loved the scenic design by Chris Rhoton, especially the simple pink flowers that used throughout the story. Another lovely touch is the short, nonverbal vignettes between scenes depicting queer and polyamorous romances among nameless ensemble members.
Queer fairy tales are exactly what our world needs right now. Head Over Heels does the difficult work of overthrowing heteronormative, whitewashed, and misogynistic tropes rampant in cultural storytelling while providing a fun, comedic, light-hearted story set to a series of catchy, upbeat songs. Do yourself a favor and escape to Arcadia for a few hours. You'll be glad you did.
Ticket Information
Location: Theater Wit, 1229 W. Belmont Ave. in Chicago
Regular run: Sunday, July 7 – Sunday, August 25, 2019
Curtain Times: Thursdays, Fridays & Saturdays at 8 pm; Sundays at 3 pm.
Please note: there will be added performances on Saturday, July 27 at 3 pm, Wednesday, July 31 at 8 pm, Saturday, August 10 at 3 pm, Wednesday, August 14 at 8 pm, Wednesday, August 21 at 8pm and Saturday, August 24 at 3 pm.
Tickets: $40. Students/seniors $35. Tickets are available at the Kokandy Productions website, by calling (773) 975-8150 or in person at the Theater Wit Box Office.
All photos by Michael Brosilow.