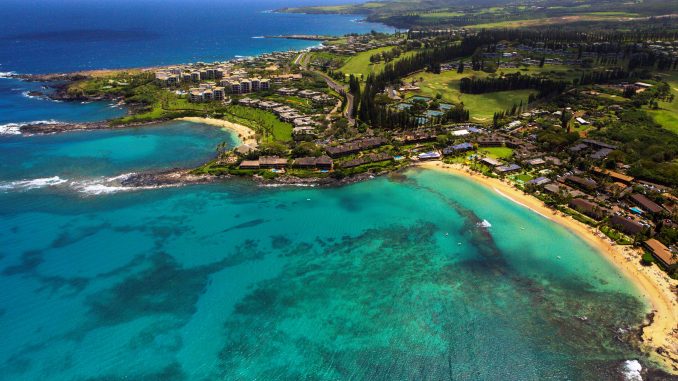 Just a five hour plane ride from Los Angeles and you're in a magical play land known as Maui. You can lounge on a beautiful beach with a tropical cocktail, indulge in a world class spa. Maybe a peaceful round of world class golf. Or get your engines running with a thrill ride on a zipline, scuba dive with sharks, or in winter an up close whale encounter on a whale watching boat. Maui has it all. I think the best bang for your buck is to stay in a condo/Villa. Maui has some exquisite properties to rent or own.
Napili Kai Beach Resort is a fantastic place to stay in Maui. Offering a variety of studio, one and two bedroom villa this intimate resort sits right on the ocean. I stayed in an ocean front one bedroom villa with stunning ocean views and sunsets. My living room had a sofa bed that opens so the villa can accommodate 2-4 people. Complete with a full kitchen.
Discounts on nearby golf and massages. Just feet away from my door was Kapalua Bay and beach with some of the best snorkeling on Maui. The villas come with complimentary WiFi, daily maid service, in room safe, cable TV and DVD player. AC in some villas fans in others. Very nice swimming pool on property.
Perfect place for romance and a family vacation. Sea House restaurant serves breakfast, lunch and dinner. Beautifully decorated, everything about staying here is first class. Our patio where I enjoyed breakfast each morning had a breathtaking view overlooking ocean. Also the Villas are a great place to witness the nightly stunning sunsets. For family vacations or a romantic getaway.
I love having a kitchen to make breakfast. Hotels charge so much for so little. The local supermarket have some amazing papayas, pineapples, sweet rolls and other local breakfast goodies. If you have kids along make a few sandwiches for lunch and save your money for a nice dinner. The Villas have their own swimming pool and whirlpool.
Just minutes from your door are white sand beaches and some of the best snorkeling beaches in the world. Maui is a snorkeling paradise. Kapalua Bay is teeming with colorful tropical fish. If you are a swimmer and have never snorkeled you are missing out on one of the great adventures in life.
At Kapalua Bay in shallow water just 10 to 20 feet from the beach are hundreds of the most beautiful and colorful fish in the world. The Hawaii green turtle has made a great comeback and are now plentiful. I often see them while snorkeling. The bay is very calm making it perfect for young or old alike. Within minutes of entering the water I was swimming with a turtle and soon I spotted a school of tri-colored Moorish idols.
I was lucky enough to catch a moray eel out from hiding in the rocks. They look scary but if you don't touch them they will leave you alone.
There were multi colored Angel fish, spotted puffer fish, even a long thin blue trumpet fish. In twenty minutes I must have seen thirty different type of fish in all their unique shapes and color combinations.
My friend Angela had never snorkeled before and was a little apprehensive. After just a few minutes in the water she fell in love with the experience. I love photographing the fish with my underwater digital camera.
There is a free shuttle bus throughout the Kapalua Resort but I recommend you rent a car, this is a magical island to explore. This was a short four day trip for me and I just wanted to stay around Kapalua. Each morning over breakfast I would watch geckos and birds off my balcony. Then off to Kapalua Bay to snorkel for an hour. then pop over to the swimming pool and whirlpools. I recommend a late afternoon massage at The Montage Kapalua Bay Spa. This world class spa has nineteen treatment rooms, ten outdoor private bungalows, even cold rain showers.
They offer dozens of different treatments from massages to wraps, facials, body treatments, mani and pedi's as well. We did a couples massage in one of the outdoor bungalows. Now I have been to Bora Bora, Cancun, Jamaica and had massages at many wonderful Hotels. I tell you this was by far the best Spa I have encountered. The masseuses for both of us were amazing. Everything from the soothing island music and running waterfall just beyond the outdoor private bungalow was perfectly relaxing and magical. Lunch was included with our massage so we ate at the Spa pool first. Then enjoyed a swim and whirlpool. After the massage I went for a steam and sauna.
The locals raved about The Gazebo Restaurant, located nearby at the Outrigger Napili Shores. This small hidden out of the way breakfast joint with amazing Macadamia Nut Pancakes sits right on the water.
This little gem is strictly breakfast and lunch. Open 730 AM till 2 PM The Gazebo didn't disappoint. The Mac Pancakes were great and at noon we also enjoyed a Tuna Melt Sandwich. The prices are very good, and in the winter months sometimes you can watch the whales while eating your pancakes. Just one reason in a hundred why Maui is so special. A must if you are in the Kapalua area.
Our first dinner was at one of Hawaii best know treasures, Roy's Kaanapali. You can find Roy's throughout the Hawaiian islands, six in total. And there are twenty three in the USA, thirty one total around the world. Two here in Los Angeles area, check their web site for one near you.
This dinner at Roy's Kaanapali just ten minutes from our Villa was the sixth different Roy's location I have eaten in. The week before on Oahu I ate at Roy's Ko Olina, next door to the brand new Disney resort. I have never had anything but a fantastic meal at Roy's. Chef Roy Yamaguchi is THE MAN. It was he who started Hawaiian Fusion Cuisine, which today is common throughout the islands and the mainland. His philosophy was to focus on fish from the Hawaiian waters, combining freshest local ingredients with European sauces and bold Asian spices. And as throughout Hawaii the dress is casual. Not like the Caribbean where many hotels still want you to dress up for dinner. The service at Roy's is top notch and friendly, they call it the Aloha Spirit. Start with The original Hawaiian Martini, or Roy's Island Mai Tai. 
Roy's Kaanapali moved several years ago and now sits on a golf course. So they are one of the only Roy's Restaurants to serve breakfast, and boy do they knock it out of the park. From Eggs Benedict over Hawaii Kai Crispy Crab Cakes, that was unique and fantastic.
To the always popular Avocado Toast, shaved parmesan cheese, lomilomi Tomato, frisee, and poached eggs.
I also loved the Mochi Pancakes, glutton free, with toasted coconut flakes and haupia cream. Breakfast smoothies are not on the menu but just ask and they will make them.
Although the menu emphasis is seafood I just love to start with my favorites appetizer, Roy's Szechwan Ribs.
But don't miss the Ahi Poke, some of the best fresh Ahi you will ever have. I also recommend Roy's Dim Sum Canoe for two. It gives you a little of five different appetizers, included the two I just mentioned. All are wonderful.
Some of my dinner favorites are Confit Duck Lumpia, Philippine style spring roll and oh so tasty. Also was delighted by the Crab and Shrimp Pot stickers. Both go down smooth with their specialty cocktails.
They always do great sushi rolls and i had both on the menu. The Yamaguchi Spicy Ahi Sushi roll and the Frying Dragon Roll which had Unagi, miso butterfish, wasabi butter, sriracha Aioli and macadamia nut. Both rolls were delicious.
I can never come to any Roy's Restaurant and not get the Szechuan Baby Back pork Ribs. World class is all I can say. They offer them as an appetizer 5 ribs, or 8 on the entree with sides. I love that the server, for no charge, often will bring out a little something for the little kids. Just another small touch that makes Roy's a warm special experience for the whole family. Again that Aloha Spirit. For the main course you can do a number of meats but Hawaii has such amazing fish so we went for two of Roy's signature dishes. Macademia Nut Crusted Mahimahi, and the Jade Pesto steamed Monchong, both were delightful. I also recommend you get advice from your server, there are always specials that often revolve around local fish that are seasonal.
But whether it is fish or meat you will always have a first class fantastic dining experience at Roy's. And there is so much variety to their menu you can eat there a dozen times and not repeat dishes. Leave room to share a few desserts as well.
The second night we dined at Sansei Restaurant and Sushi Bar. This local favorite is walking distance from the Kapalua Villas. If you love sushi this place will get you excited. It is small and intimate so you will need a reservation. They have two on Maui, four throughout the Hawaiian Islands. Their motto, dress casual, bring a smile, relax and enjoy the adventure of dining at our restaurant. This night their nightly specials had some seasonal sushi that makes my mouth water just to recall. Otoro Blue Fin Tuna and Island fresh Pink Snapper-Opakapaka, Wow!!! They went nicely with the new drink of the day The Ginger Elixir. But this food cry's out for some good sake and local beer, which they have plenty of. We loved the Agedashi- tofu lightly fried, Tea Duck Eggroll, Maui Style Teriyaki Beef, Crisp fried Calamari, Wok Tossed upcountry Vegetables, Shrimp Dynamite. And that doesn't touch one tenth of their menu. They have Seafood Pasta, Grilled Pork Chops, Cracked Peppercorn Grilled N.Y. Steak. This is a superb restaurant everyone can find dishes they will love no matter where their desires takes them. But do save room for Tempura fried Macadamia Nut Ice Cream-vanilla ice cream wrapped in pound cake, rolled in macadamia nuts then flash fried. One for the ages!!!
For our final night we chose a sunset dinner at The Plantation House Restaurant. Located in Kapalua, for years this was a working pineapple plantation. They have a beautiful painted mural over the bar depicting the old plantation. Nathan, the dining room manager, is very friendly and will gladly give you the history. He also has great recommendations on the vast wonderful menu and even turned me on to Kapalua Bay as the best snorkeling spot, so do introduce yourself. The restaurant was recently recognized as "One of the top 10 restaurants to view the sunset in the US." So if you wish to dine for sunset, make sure you get there when they open for the dinner seating, 5:30 in the winter and 6 PM in the summer.
The Plantation House Restaurant is open all day and many people love to take in the views and a leisurely meal. They have a flex time menu and offer both breakfast and lunch items 8AM-3PM, which is great for jet lagged visitor. The restaurant is large, and being on a world class golf course offers incredible views and locations for weddings and receptions from a few people to hundreds. For dinner we started with Sweet and Spicy Hawaiian Style Prawns, and a Crispy Crab Stuffed Ahi Roll. Both we excellent. They have an extensive wine list that has merited an award of excellence from Wine Spectator Magazine. So do get their recommendations on pairing the right wine based on your taste and the dishes you order. For our main courses we shared a delightful Oven Roasted Filet Mignon and A Taste Of Venice-panko pressed Hawaiian Catch on shrimp, asparagus, sugar peas and orzo, finished with golden raisins and toasted pine nuts. Taste of Venice was one of five fresh fish preparations on the menu you choose from, you then select one of the evening fresh fish selections. I promise you an amazing dinner whatever you decide to go with. Much of the tomatoes, onions and produce is locally grown and organically raised here on Maui. There is quite a variety on this menu from Slow Braised Free Range Lamb Shank, to Pasta with Pacific Shrimp, or Chicken dishes. But I will say their fish dishes are a specialty and the steak equally delicious. Maui is a very special place. I hope you find your way there soon. Happy Travels.
Photo's by Mitchell Sacharoff and Participating Hotels and Restaurants.