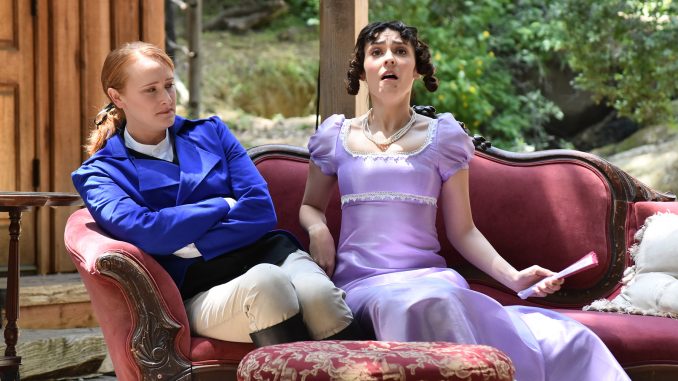 Written around 1601, William Shakespeare's charming comedy of mistaken identities was probably planned as a Christmas entertainment. In Shakespeare's time, Twelfth Night was a special time. Disorder was king; and music, dance, and revelry were the coin of the realm. Set in Illyria, reportedly an ancient region of the Western Balkans renowned as exotic and romantic in the extreme, TWELFTH NIGHT was first performed in 1601 or 1602 as a Christmas frolic. Over the centuries, Shakespeare's comedy was given new life on radio, television, and even in music.
Twins Viola (Willow Geer) and Sebastian (Cavin Mohrhardt) are shipwrecked on the coast of Illyria but somehow lose touch one with the other, each believing that the other twin has died. Viola decides to disguise herself as a young man named Cesario and soon enters the service of Duke Orsino (Max Lawrence). As it turns out, Orsino is madly in love with the fair Olivia (Christine Breihan) – who has vowed that she will remain in mourning for her father and brother for seven years. During these years, she will refuse all entertainment and will shun any proposals of love or marriage, even from Duke Orsino. In order to change her mind, Orsino send Viola, disguised as Cesario, to Olivia's home to plead his cause. But the unthinkable happens when Olivia finds herself drawn to the Duke's emissary and finally declares her undying love for Cesario. What a pretty pickle for a young lady dressed like a man. To make matters worse, Viola has grown to love Orsino. This is a love triangle which simply can't be untangled.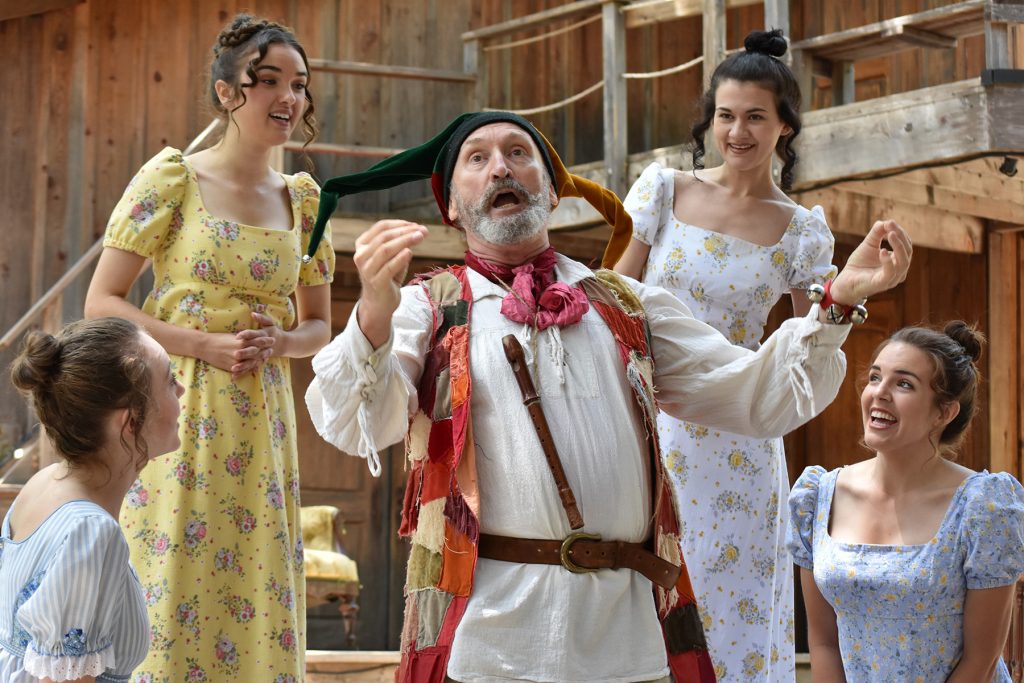 To make matters worse, trouble is brewing on other fronts. As it turns out Sebastian is not dead and has been rescued by sea captain Antonio (Sean McConaghy), who is Orsino's sworn enemy but returns to Illyria anyway to help his young friend. Meanwhile, Olivia's staff decide to play a pretty rough joke on Malvolio (Melora Marshall), whom they see as a holier-than-thou pain-in-the-neck. Soon Olivia's uncle Toby Belch (Christopher W. Jones) and unwanted suiter, Sir Andrew Aguecheek (Frank Weidner), offer help in this little debacle. It doesn't take long for nobody to be sure who anybody is – which is exactly how Shakespeare planned it.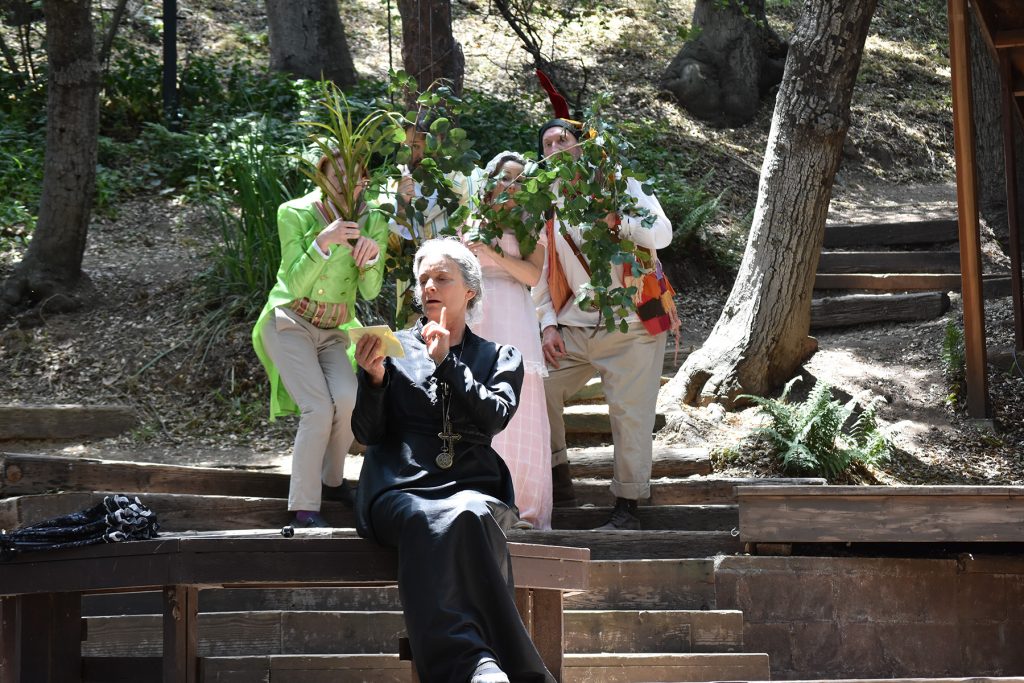 As always, the Theatricum Botanicum acting troupe offers the Bard unvarnished tribute as only this dedicated group can. Comic confusion is interspersed with some darker elements – but the audience can be assured of a happy ending. The production team does a highly competent job of conveying all the action on the side of a mountain. All in all, Shakespeare himself would likely be very pleased with the current Theatricum Botanicum production of TWELFTH NIGHT.
TWELFTH NIGHT runs through September 28, 2019, with performances at 8 p.m. on Friday at 8 p.m. (8/2), at 4 p.m. on Saturdays at 4 p.m. (7/6, 7/13, 9/7, 9/21) and 8 p.m. (6/1, 8/24, 9/28), and on Sundays at 4 p.m. (6/9, 6/16, 7/21, 8/11, 8/18, 9/1, 9/15) and 8 p.m. (6/23, 6/30, 9/1). Will Geer's Theatricum Botanicum is located at 1419 N. Topanga Canyon Blvd., Topanga, CA 90290. Tickets are $42 and $25 (seniors, students, veterans, teachers, AEA members, $25/$15 and children to 5 to 15 $10). For information and reservations, call 310-455-3723 or go online.