I fondly remember a screening of the original Psycho at my college many moons ago–in particular, the way the audience of jaded Gen Xers laughed nervously before giving in to unintended yelps, shrieks, and gasps. The memory came back to me while in the audience for the opening performance of Drury Lane Theatre's effectively tense and eerie And Then There Were None last night. Some of the theatergoers heard the warning about gunshots and never quite recovered, alternating between giggling and alarmed interjections.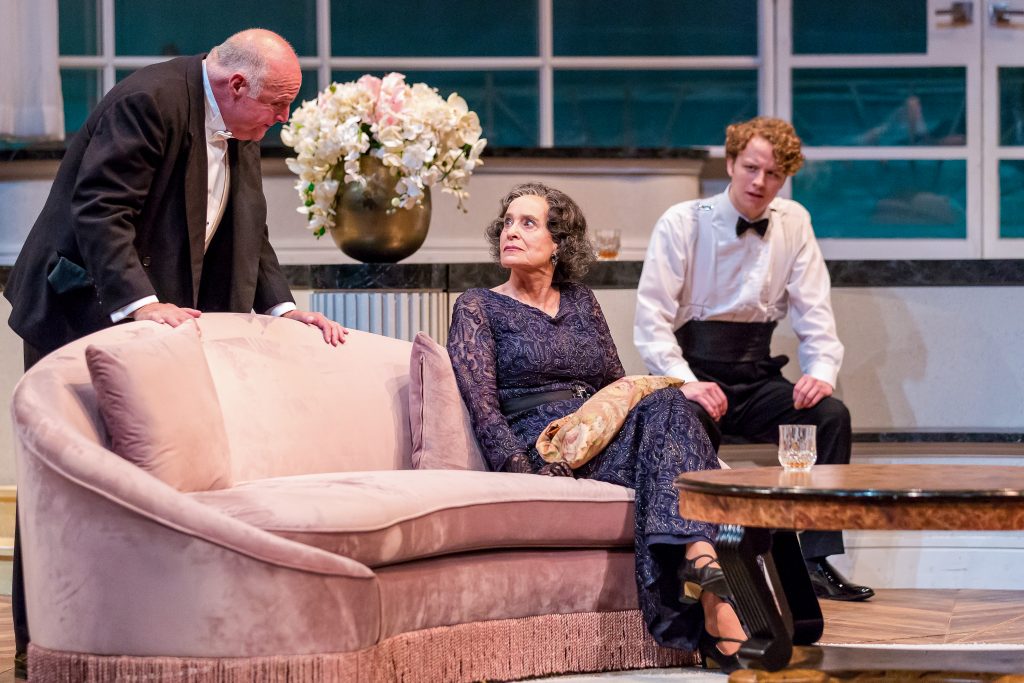 It was a perfect atmosphere in which to experience director Jessica Fisch's clever and fresh version of the Christie classic, which is now well-known for having not one, but two racially-insensitive former titles, less than for being one of the purer locked-room mysteries around. Fisch finds a way to give the isolated island mansion setting energy by moving the "ten little soldiers" restlessly around the sitting room furniture, in and out of sight through doors, and onto a sea-facing terrace before–no spoilers here–they begin to die in ways not-so-coincidentally linked to an already creepy nursery rhyme hanging on the sitting room's wall.
The ensemble is excellently cast and while each is playing a rogues' gallery archetype, they each have an opportunity to lend depth and humanity (and, in many instances, jetty black humor) into the proceedings. Cher Alvarez projects old Hollywood glamour as Vera Claythorne, confidently showing off a backless evening gown and navigating thorny conversations with equal aplomb. Alvarez, most recently a featured actor in Steppenwolf's harrowing La Ruta, continues to grow as a performer, showing a range here that outstrips the character on the page. Equalling her 1940s vibe is Yousof Sultani as charming cad and soldier of fortune Philip Lombard. In one scene, Sultani makes a meal out of watching the other characters while seated gracefully and almost statue-still with a posture that could have been modeled after Cary Grant. Marilyn Dodds Frank as fire-and-brimstone moralist/knitting enthusiast Emily Brent, Matt DeCaro as composed and measured judge Sir Lawrence Wargrave, and Bruce A. Young as genial retired General Mackenzie all shine in monologues at once sublime and sinister.
The deceptively serene and pastel Andrew Boyce set and Driscoll Otto lighting provides a backdrop for an affluent seaside getaway but is also successfully transform into a canvas onto which the characters pose, as they dwindle in numbers, in portrait… and, during one particularly armrest-clenching sequence, plunge into utter darkness.
It's brilliant counterprogramming to the outdoor delights offered most days by Chicagoland's parks and waterfront venues, a late summer theatrical treat designed to show a lovely oceanfront view before replacing it with the macabre and chilly visions of autumn. For mystery lovers and Anglophiles alike–and for both, the upcoming August 24th Mystery High Tea sounds like it'll be double the fun–head out to Oakbrook Terrace and prepare yourself for one or two laughs, then slip into screams.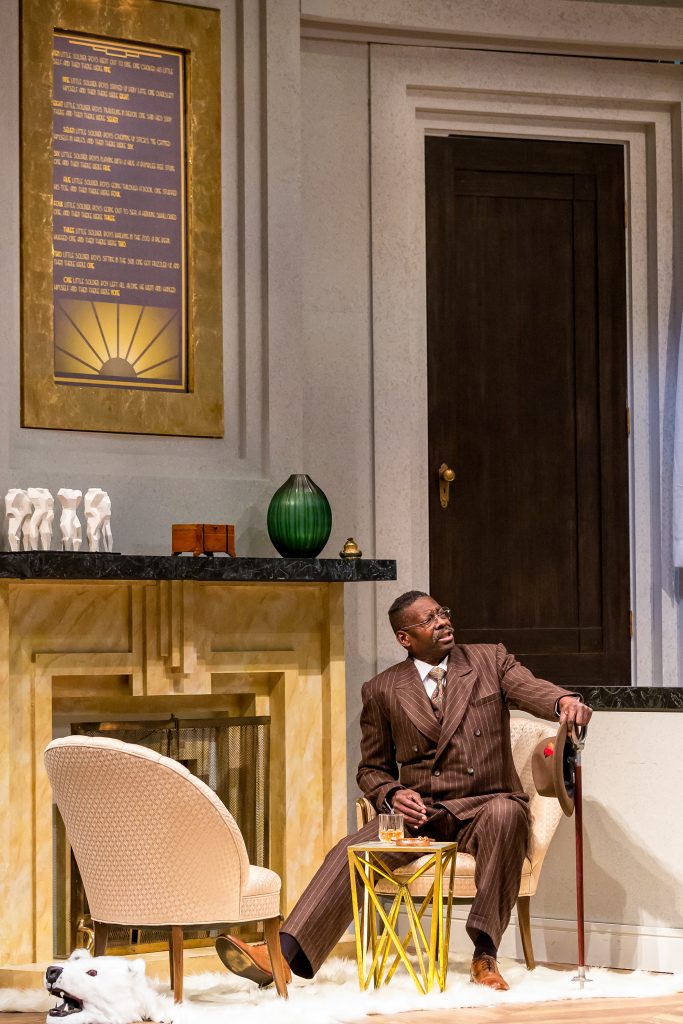 And Then There Were None runs now to September 1, 2019, with performances from Wednesday through Sunday. For tickets and more information, visit DruryLaneTheatre.com or call 630-530-0111.