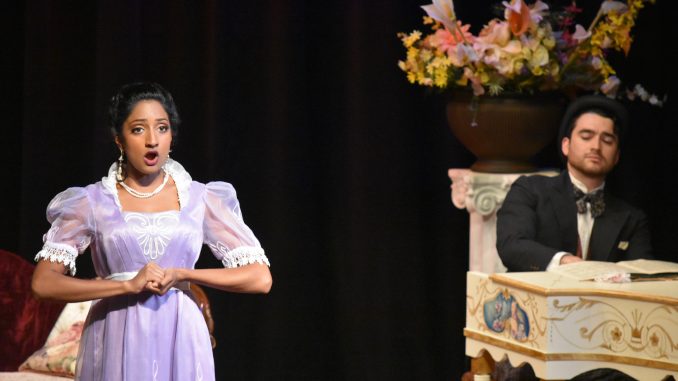 A Pocket Review
The Bay Area's premiere chamber opera company, Pocket Opera, known for their accessible, "audience friendly" performances for over 40 years, presented The Barber of Seville by Rossini at the Schultz Cultural Arts Hall at the Oshman Family JCC in Palo Alto. In this production the Pocket Philharmonic and professional performers did not disappoint. Having narrations in English by Donald Pippinalways enriches the performances.
Some background from Wikipedia:
"Barber of Seville Rossini's opera recounts the events of the first of the three plays by French playwright Pierre Beaumarchais that revolve around the clever and enterprising character named Figaro, the barber of the title. Mozart's opera The Marriage of Figaro,composed 30 years earlier in 1786, is based on the second part of the Beaumarchais trilogy. The first Beaumarchais play was originally conceived as an opéra comique, but was rejected as such by the Comédie-Italienne.[3] The play as it is now known was premiered in 1775 by the Comédie-Française at the Théâtre des Tuileries in Paris.[4]""
______________________________________________________________________________
Before Rap there was the rhymed recitative patter of Opera. Test the 'elective affinity' between the two genres for yourself! Catch up on the collective predecessor to contemporary musicalized social commentary in Pocket Opera's sparkling performance of Rossini's delightful romp through the social landscape of connubial trophy catching, class privilege and the role of a working class "fixer." The Barber is synonymous with his location, Seville and linked to classic tunes like Buona Sera, Buona Sera, instantly recognizable with an "Oh, that's where it came from!"
The Intractability of age differences moves the plot. Action flows around and intersects the classic demographics class, gender and age personified through a young woman in thrall to an older man with a youthful admirer who wishes to spirit her away. This classic triangle is made quadrilateral by a barber who does house calls, a jack of all trades including intermediary between lovers. Maya Kherani is in superb voice as Rosina, a youthful bird in gilded cage struggling to escape Bartolo, her overprotective guardian, ably sung and acted by Lee Strawn. As maid, Krista Wigle provides comic relief with a serious undertone reflecting on the inequality of distribution of physical beauty.
Powerful ensemble singing is a hallmark of Pocket, belying its diminutive resources, augmented in this production through collaboration with Petaluma's Cinnabar Opera Theater. How such a small modestly resourced performance group produces such a brilliant performance is a continuing source of wonderment as the applause dies down and the musicians remove their instruments from the stage.
To learn more about Pocket Opera and the wonderful performances that await you, go to the Pocket Opera Website