When your restaurant is named for an an Italian breed of cattle that produces some of the finest cuts of beef in the world, you are setting the bar pretty high in the world of steakhouses. Chianina, located in Long Beach, took that name, and not only do they live up to that high standard with every steak, but also with everything they do. Chianina gives you what will be one of the most memorable dining experiences of your life, from start to finish.
The Chianina is one of the largest and oldest cattle breeds in the world, and until Chianina opened in Long Beach, you would have had to travel to Florence, Italy to experience the famous Bistecca alla Fiorentina. This porterhouse comes to Chianina from their own own herd of cattle that they responsibly raise at Huggins Ranch in Utah. All of that effort and thoughtfulness behind the concept of Chianina shines through in each and every steak.
It does not matter which cut you choose, you will never be disappointed at Chianina. The tenderness and rich flavor is expressed in each and every bite. And, with one look at your steak, you can see the quality by the beautiful marbleization of every cut.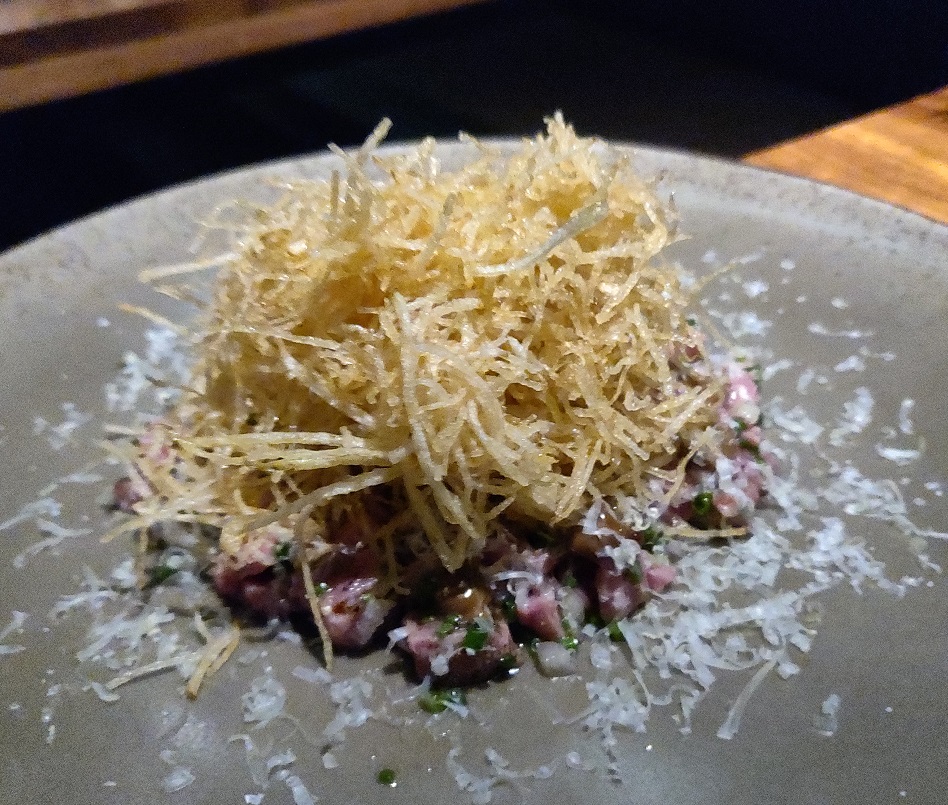 Chianina was wise to use such quality beef for their steak as the appetizer portion of the menu is so amazing that you would need something impressive to follow up these delicacies. The pork belly is an absolute must. It gives you that salty and richness that only pork can give you and it is so tender you are going to feel as if you are slicing into butter. The quality of the beef that Chianina uses is clearly evident in the steak tartar as you are hit with tenderness, freshness and rich flavor in every bite of this dish that lets the steak speak for itself. The tartare is complimented beautifully with addition of black garlic, crispy potato to give it a nice contrast in texture and just a hint of aged cheddar.
As soon as you walk into Chianina you can't help but notice the stunning bar that greets you, and with that bar is one of the best cocktail programs you will find anywhere. Head bartender Emraan Jawaid brings his creativity to Chianina with a smoky flare that is not only eye-catching, but also gives you some wildly unique flavors. The "Rise and Shine" is the highlight of the menu with a combination of cold-brewed bourbon, tobacco bitters and cream that creates a cocktail that simply says Don Draper. There is no actually tobacco and the bourbon is infused with coffee to give a wonderful combination of powerful flavors that are very classic and at the same time incredibly unique. There are some other great smoke inspired cocktails and you can finish off your meal in a wonderfully smoky and sweet flavor by either going with the s'mores martini and the Chianina version of s'mores. I would suggest order both and share with a friend and try to decide which is better. A very tasty argument that you will not lose no matter which one your prefer.
While the quality of the steak and fresh ingredients will keep your pallet salivating to return to Chianina, there is more to this steakhouse than the food. Chianina is a beautiful and intimate restaurant that has created an atmosphere that makes you are more than a guest, you are part of the family. The staff makes your dining experience personal; they take the time to understand you while sharing the menu in a storybook way that brings it more to life than just reading it.
One visit to Chianina will cause you to put this steakhouse against all others. While the steak sets the tone for the restaurant, it is all of the little nuances of the warm and friendly atmosphere that is sure to keep you coming back. Using the term steakhouse to describe Chianina is far too underwhelming. Chianina is one of those restaurants that creates memories, whether it is that beautifully cooked steak that cuts like the butter on the table or the cocktail that turns heads as it is brought to your table.
For more information, visit: Chianina