With all its myriad layers of emotion and storytelling and need for strong performers to carry each part, Into the Woods can either be a dream or a nightmare to watch.  The new production at Writer's Theatre in Glencoe is all dream.
Performed in the Round, with minimal scenery and live musicians on stage as part of the set, Writer's Theatre proves that less can sometimes absolutely be more. Brilliant casting is the key.  Couple that with absolutely surprising and truly magical props, and you have a recipe for a wonderful evening of theatre for young and old.
On the night I attended there were patrons from age 8 to 80 the crowd, each interacting with Sondheim's story at their own level of sophistication. And the production's clever use of the aisles and stairs of the theatre as part of the set made certain that something magical happened very close to you, no matter where you sat in the audience.  Whether it was Cinderella's mother popping up looking like a woodland dryad, to a beanstalk sprouting suddenly from an aisle and Jack singing "Giants in the Sky" as he came down the stairs, or "You Are Not Alone" being performed simultaneously from the main stage and the "Tower", which again was one of the aisles, every bit of the theatre was used to turn a small space into a vast and magical fairy tale forest and create a very real sense of movement and the passage of time. Director Gary Griffin and Choreographer Aubrey Adams did wonders with this space and cast.
A wild assortment of green tassels hanging from the ceiling gave the feeling of overhanging branches and clever lighting design cast shadows below to create a dappled forest floor for the performers to act in. An enormous tree with a grand piano built in shook to make us feel the massive footfalls of a vengeful and righteous giantess as the booming sound system vibrated our breastbones. To go on about the brilliance of the design would spoil some of the surprises and I don't wish to do that.  But the vision and care that was put into every aspect of the creation of the woods shows in every moment of this show. Scott Davis (Scenic Designer), Lee Fiskness (Lighting Designer), Christopher M. LaPorte (Sound Designer) are all to be commended.
Same with the costumes by Mara Blumenfeld (Costume Designer). Everyone is as they should be, wearing clothing natural to their roles.  The red and blue color-coded Princes, the dapper Wolf, Cinderella's ballgown and the Witch's costumes in both aspects are standouts in this regard, but they're also not trying to transform, but to inhabit these characters, while not just copying the designs of other productions.
Also, this production also contains the single best Milky White concept I've ever seen in this play, and she is wonderfully brought to life through the efforts of Mary Poole.  You need to see her and her brilliant costume for yourself to truly appreciate it.
It's almost impossible to pick a favorite among the cast, they're all so very good.  From voices to looks to action, this ensemble musical is perfect. The heart of the show is, of course, the Baker (Michael Mahler) and his wife (Brianna Borger), and this pair brings a wonderful dynamic both to their own relationship, but also to the other relationships that grow with them during the show. Beginning with born families and their dynamics, it ends with a found family, that is almost stronger for being thrown together through hardships and the Baker and his Wife lead the way in forming this new group.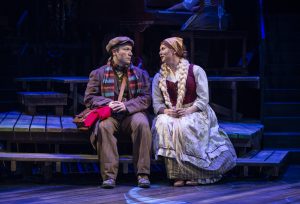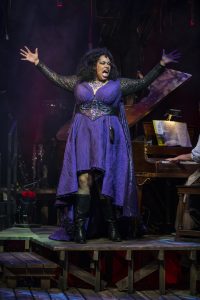 The cast is so strong I could be here all day listing them out. Even thankless roles like Cinderella's Stepsisters Lucinda (Nicole Arnold) and Florinda (Molly Hernandez) are superbly performed.  I would have liked to see a little more personality from Cinderella's Prince (Ryan McBride), but that's a small quibble.  In another cast he would have been a true standout. The other major show-carrying actors including Cinderella (Ximone Rose), Jack (Ben Barker) and Red Riding Hood (Lucy Godinez) absolutely kill in their parts bringing all the emotion, cleverness and innocence that they require.  And you can't have a great Into the Woods without a great Witch, and in Bethany Thomas, this production has that with power, pathos and intelligence in her every utterance.
The accompaniment is carried by four musicians, and they bring so much to this production, I really want to mention them here, with musical direction and a stripped down score by Matt Deitchman, Charlotte Rivard-Hoster (Piano-Conductor), Jeff Handley and Brandon Podjasek (Percussion) and Mike Matlock (Woodwinds) make you never miss the orchestra.
This production has a distressingly short run, so buy tickets right away at the Writer's Theatre Box Office.  You only have until September 22 to see it!