Based on Amy Tan's bestselling novel, THE JOY LUCK CLUB explores the immigrants' journey and how that journey will forever impact upon their children. Except for the small number of people native to North America, almost everyone else living here today has experienced the immigrant experience, whether it be first, second, or third generation. Inherent in the move from one country to another is the inevitable culture clash as two very different sets of ideas and philosophies come into conflict with each other.
Structured along the lines of a Mahjong game, THE JOY LUCK CLUB follows 16 stories between four Chinese mothers with their four American daughters as these tales interweave with and complement each other. A play selection by artistic director Christian Lebano, effectively directed by Tim Dang – both men who trace their family histories to another country – THE JOY LUCK CLUB delves into two major themes exemplified by the struggles of genuine people who move from the country of their birth to a foreign country where "new" ideas abound. The first theme focuses on the difficulty of preserving one's heritage and culture in the face of these cataclysmic changes as four Chinese women immigrate to the United States. The second theme studies how conflicts in their children must be resolved if their kids are to grow in self-understanding and acceptance: how they must combine their past and present experiences, their earliest cultural memories and their current life choices, in order to become truly authentic human beings.
This is the story of four mothers, Suyan Woo (Sharline Liu), Lindo Jong (Lee Chen), An-Mei Hsu (Grace Shen), and Ying-Ying St. Clair (Peggy Lu) and their relationships with their very Americanized daughters, daughters who have strayed far from their mother's goals and expectations for them. Daughters who must now navigate the turbulent waters between two rivers, one espoused by their beloved but "old fashioned" mothers and the other by their day-to-day, pragmatic surroundings. And yet, as Tan points out in her novel, a schism which must be faced and conquered in order to reach their best selves.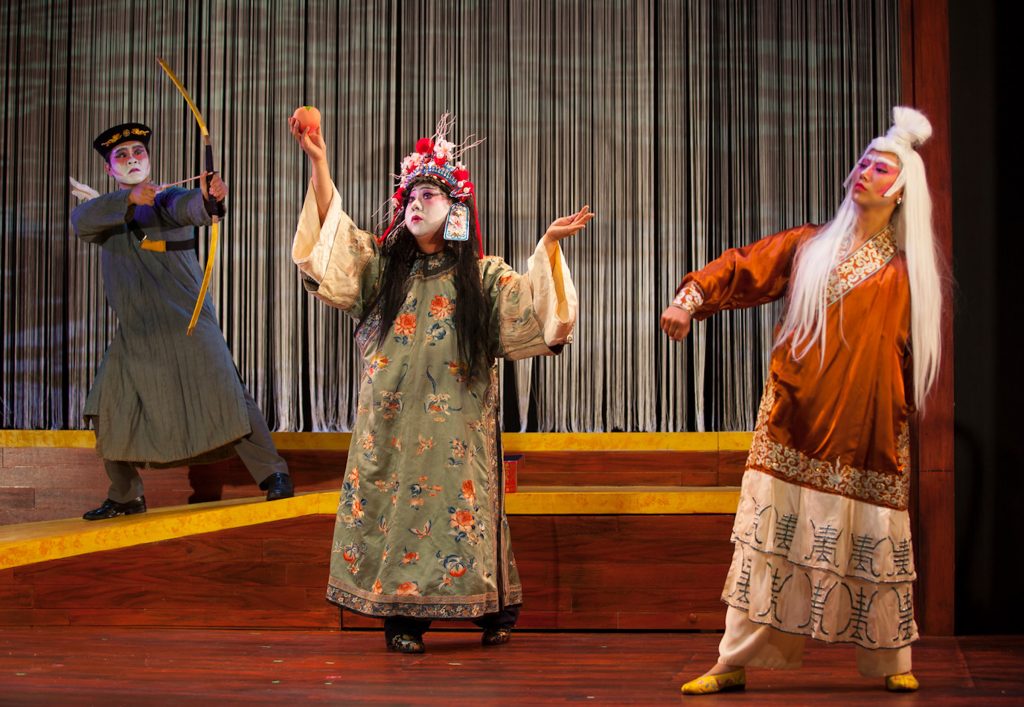 Appropriate to the spiritual content of this battle, THE JOY LUCK CLUB relies heavily on metaphors to send its message. Yee Eun Nam's set and projection design is complex, with doors which open and shut to opportunities and dreams while remembrances of the past dot each wall. Jojo Siu's costumes design plays with a color palette where mother and daughter share similar patterns and colors. Sound designer and co-composter Nathan Wang, together with fellow co-composer and assistant sound designer Cora Chung, define each mother/daughter pair with an instrument and melodic composition which share their emotional tone with the audience while lighting leads from one event/epoch to another. Overall, THE JOY LUCK CLUB is a well-designed amalgam of the verbal and nonverbal, the symbolic and the real. This is a play which will resonate with audiences in a very personal way.
THE JOY LUCK CLUB runs through October 3, 2019 with performances at 8 p.m. Fridays and Saturdays and at 2:30 p.m. on Sundays (also Saturday matinees at 2:30 on 9/7, 9/14, 9/21, 9/28, and 10/5). The Sierra Madre Playhouse is located at 87 W. Sierra Madre Blvd., Sierra Madre, CA 91024. Tickets are $45 (seniors $40 and youth to age 21 $25). For information and reservations, call 626-355-4318 or go online.