How could I miss the opportunity to see YOU ARE HAPPY? Don't I want to be happy? Don't you? This is the Red Theater's first production of the 19/20 season and I found it intriguing, captivating and unique. Originally written in French by Quebec playwright Rébecca Déraspe, this production of YOU ARE HAPPY is the English translation by Leanna Brodie now playing through December 8th at The Edge Off Broadway.
This was my first opportunity to both see a Red Theater production and to experience The Edge Off Broadway space. The space which reminded me of a blank canvas on which the performance could imprint itself and did.  The play was very unusual. Although this is the third production in which the Red Theater performed simultaneously in English and American Sign Language, this was my first experience and I was captivated.
Essentially, each character was played by two people, the individual who signed and a kind of shadow or double who said the words and at times there were two monitors presenting the written word. This was an enveloping experience and pulled me into the action. The music was perfect, as was the timing and choreography. The language was musical.
The story is simple and the characters are almost puppet-like, as though all the extraneous parts of relationships and interactions have been cut away. It tells the story of Bridget who finds her brother Jeremy in a closet, once again attempting suicide. She is convinced that if only Jeremy had someone who cared about him he could find happiness and the suicide attempts would stop. In the grocery store, she observes two- two "shes", two "hes", a man with a woman, and then finally she sees Chloe, alone. Greeting Chloe, she cooks up a very implausible but fascinating scheme to bring Jeremy and Chloe together.  The story is told especially well and kudos to Michelle Mary Schaefer as Chloe, just sexy enough but also very subtle.
The cast includes Michelle Mary Schaefer, Brendan Connelly, Emily Turner, Sarah JK Shoemaker, Bowie Foote, and Elana Weiner-Kaplow. YOU ARE HAPPY is co-directed by Mary Kate Ashe and Aaron Sawyer with concept by Giulianna Marchese. The script was translated into ASL through a collaborative process led by Brendan Connelly, Michelle Schaefer, and Mary Kate Ashe.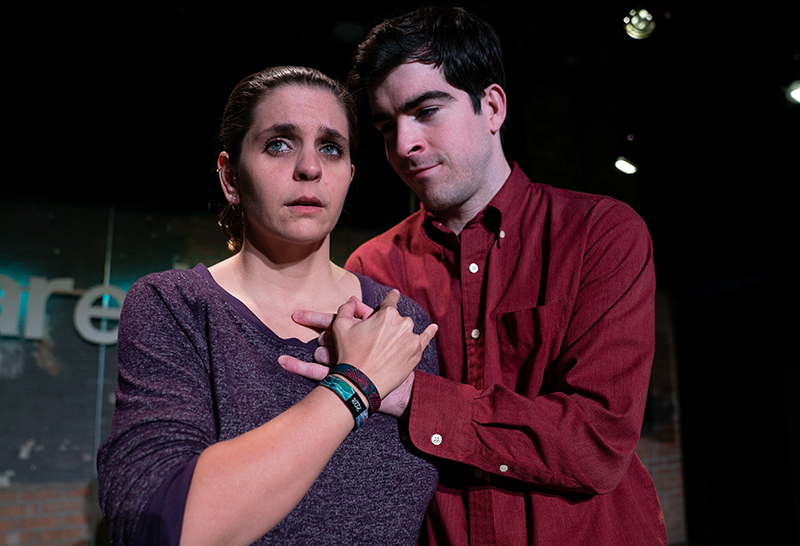 The results of lighting designer Michelle Benda; sound designer Pavi Proczko; and stage manager is Bronwyn Schlaefer enhanced the story. YOU ARE HAPPY is produced by Executive Director Marisa Lerman and acting Artistic Director Clare Brennan. 
I was charmed by the show and recommend it highly.
A bit about Red Theater:
Who We Are
Red Theater: Community, Passion, and a fighting Spirit!
Red is an effect of light that invokes feelings of strength, desire, passion, determination, and war. Red Theater started as a defiant and forwards university administration (that led to our banishment) expressing powerful and dangerous ideas that challenged the status quo. Our revolutionary spirit expanded to include five theater collectives in Lincoln, Omaha, Chicago, Tucson, and Purchase, N.Y. More about Red Theater
This season, Red Theater is expanding its accessibility efforts by adding a sensory-friendly performance on Sunday, November 24th at 3pm. Captioning will also be available for every performance upon request. Contact Accessibility Coordinator Bronwyn Schlaefer at ac***********@re********.org for more details. The Edge is inclusive of all abilities and genders and is most easily accessible by the Bryn Mawr Red Line and the 36 bus.