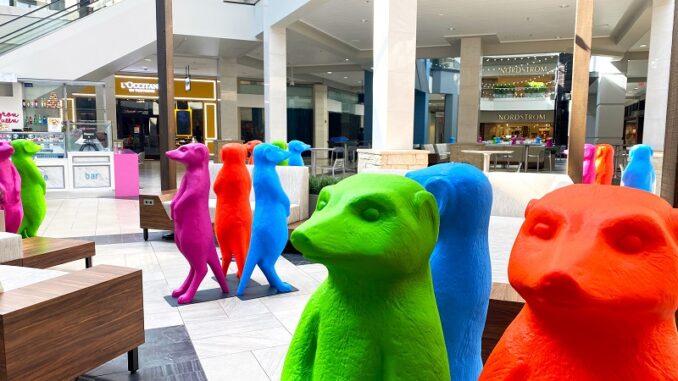 Fashion Show Las Vegas (FSLV) announced today the arrival of an exciting art installation, "The Meerkat Meetup," in partnership with international artist collective Cracking Art. The vibrant art installation will make this summer a little more colorful as it makes its debut on Thursday, July 1. The unique, travelling art exhibition will feature 30 larger than life meerkats of varying colors, making for a one-of-a-kind photo opportunity at the iconic destination.
Made of recyclable plastic, the vibrant and playful exhibition is an inspiring piece intended to spark community-wide conversations about caring for the environment and each other. The colorful meerkats will be seen standing in harmony as they brighten the atmosphere and bring a sense of wonder and togetherness throughout the destination.
Just as the meerkats do, Las Vegas continues to rebuild and the community has come together through kinship – becoming stronger than ever before. "The Meerkat Meetup" will bring a feeling of community, optimism and fun, making for an unforgettable experience as it embarks on this five month journey. With nine states and 10 properties, FSLV will make for the tours' second stop.
"The Meerkat Meetup" will be located at the second level of Fashion Show Las Vegas near Saks Fifth Avenue. Guests can visit the complimentary art installation from July 1 – 28. For more information visit www.fslv.com
About Fashion Show Las Vegas (FSLV)
Fashion Show Las Vegas is a destination that brings the culture of fashion to life through never-before-seen experiences to locals, visitors, and fashionistas alike. Featuring an eclectic mix of more than 250 retailers and over 30 restaurants spread across 2 million square feet, FSLV is the largest shopping, dining and entertainment destination on the Las Vegas Strip. Comprised of famed anchor stores such as Neiman Marcus, Nordstrom and Saks Fifth Avenue and a delectable restaurant portfolio featuring strip-side dining options such as The Capital Grille, Galpão Gaucho Brazilian Steakhouse and El Segundo Sol, Fashion Show Las Vegas is sure to satisfy every taste. The iconic center is more than a shopping destination, it is a place to gather, explore, create and celebrate all aspects of life, while owning fashion as a driver of culture. For more information, visit: www.fslv.com.
About Brookfield Properties
Brookfield Properties is a fully-integrated, global real estate services company, providing industry-leading portfolio management capabilities across the real estate investment strategies of Brookfield Asset Management – a global alternative asset manager with approximately $600 billion in AUM.
Brookfield Properties develops and manages premier real estate with a focus on maximizing the tenant experience in addition to the investment and operational performance of the asset. We also focus on integrating leading-edge real estate technologies which enables us to be at the forefront of innovation and sustainability – benefiting not only our tenants and business partners, but also the communities in which we operate.
For more information about our approach to operating and developing best-in-class real estate, please visit brookfieldproperties.com.