Court Theatre presents The Tragedy of Othello, the Moor of Venice, co-directed by Charles Newell and Gabrielle Randle-Bent. This Shakespearean tragedy tells the story of Othello, whose successful career and happy marriage with Desdemona are threatened when the villainous Iago plants doubt in the protagonist's mind. Created with a small audience in mind, this intimate production highlights the emotional intensity and physical violence of the text.
When you enter Court Theatre's space for this show, most of the seats are blocked off with draped fabric. The audience sits in just a few rows that offer the widest view of the environment or—more interestingly—in swiveling office chairs in sectioned-off areas of the stage. This unique seating decision allows audience members not only an up close and personal view of the action but also the opportunity to rotate in order to better view scenes set on all sides of the space. Scenic design by John Culbert offers levels, with ladders and scaffolding creating a sparse but multifunctional environment. Despite the significant footprint of the onstage seating, the action never feels cramped and every inch of the space is used in the 100-minute show.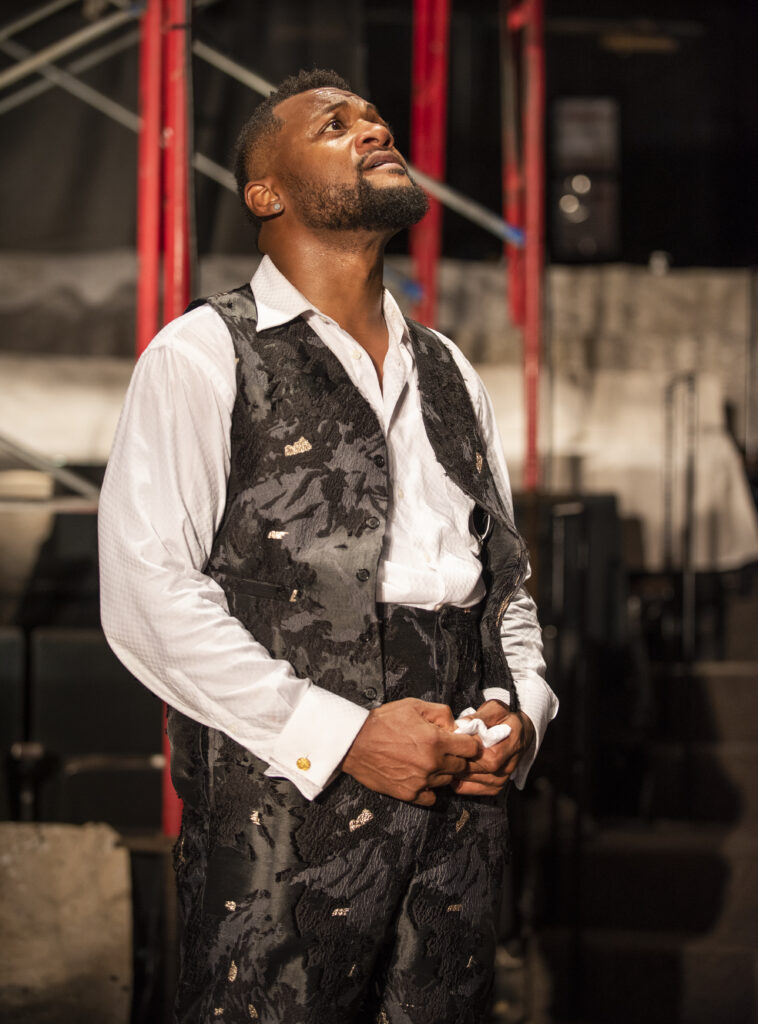 Although the innovative use of space is the most notable aspect of the production, the acting is no less impressive. Kelvin Roston, Jr. is compelling as Othello: he is charismatic and warm at the beginning of the story, making his agony in the face of his wife's possible infidelity all the more painful to witness. Amanda Drinkall is a strong and fiercely engaging Desdemona. Her commanding stage presence banishes all conceptions of the play's heroine as weak or passive. Timothy Edward Kane's Iago is surprisingly sympathetic; it is nearly possible, through his nuanced portrayal of one of Shakespeare's most notorious villains, to understand why Iago does the awful things he does. Cruz Gonzalez-Cadel is another standout as Emilia: Gonzalez-Cadel captures her evolving feelings towards husband Iago with remarkable skill.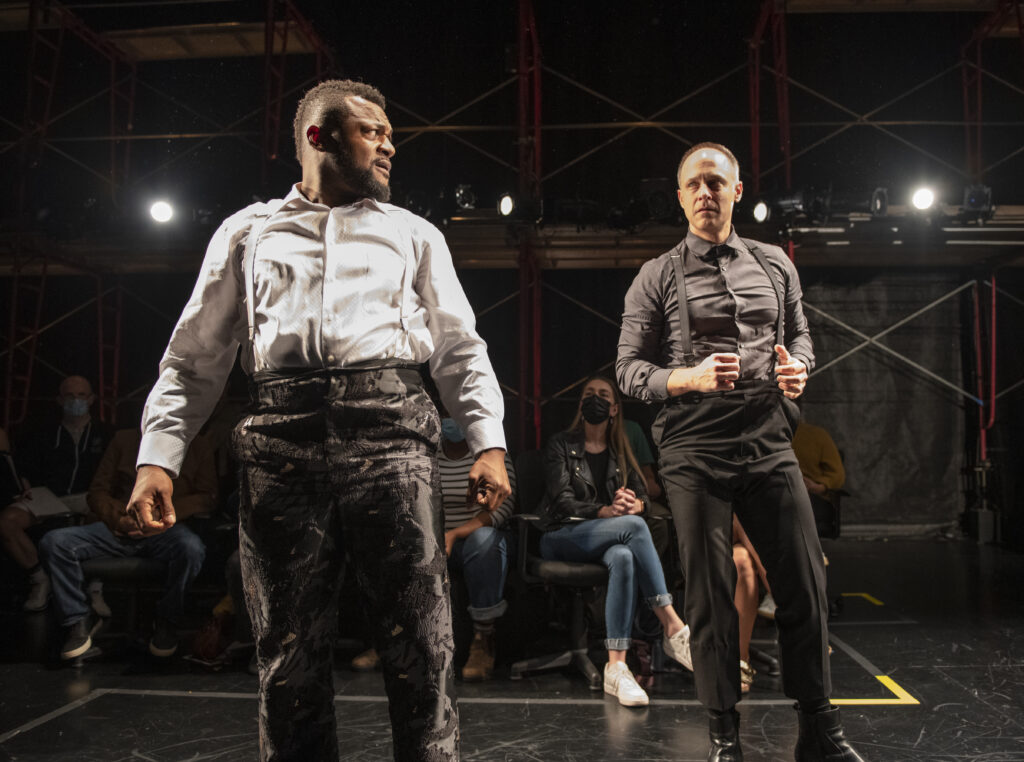 With a strong cast of actors in a relatively small space, it's impossible not to feel swept up in the heightened emotions of this play. Movement designed by Erin Kilmurray pulls off the impressive feat of feeling intensely violent while never literally depicting said violence. Actions are performed in the dark, under clothes, or parallel to where they would physically take place. Counterintuitively, this makes the violence feel more intense, as imaginations fill in the blanks left by the onstage action. The result is a short but powerful production.
Court Theatre's Othello re-envisions the classic play in a fresh and fascinating way. Whether you've seen it a dozen times or have never dipped a toe into Shakespeare's work, this is the way to experience Othello.
Ticket Information
Dates: October 8 – December 5, 2021
Times:Wednesday, Thursday, and Friday at 7:30pm; Saturday and Sunday at 2:00pm and 7:30pm
Location: Court Theatre, 5535 S. Ellis Ave.
Tickets: $56-$76 regular run. $35-$50 streaming option. Available at the Court Theatre box office (5535 S. Ellis Avenue, Chicago), by calling (773) 753-4472, or online at Court Theatre's website.
All photos by Michael Brosilow.