I am thrilled and grateful that Chicago gets to experience this new Broadway Bound Musical before New York. Especially, considering its origins emanate from the little-known Five Points 1863 murderous draft riots in New York City where 119 people were killed. Five Points in lower Manhattan was the same poverty-stricken tenements Martin Scorsese depicted in his film Gangs of New York. Free and Run-away slaves settled here and originally lived in accord with a strong sense of community and camaraderie with the recently arrived Irish immigrant refugees, who fled the potato famines for a better life in America. Both cultures intermarried, shared culture, and life together despite the extreme deprivation of this slum. The area was ripe with dance halls and bars, where African tribal dances along with the Irish Jig and Clogs came together to birth Tap Dance. Stephen Foster, the great American composer spent time here absorbing the minstrel songs he made so popular across the United States. Paradise Square is a fictionalized portrayal of one of these saloon dance halls. This is the powerful history most of us do not know, should know, and can learn from. Unfortunately, a government conscription policy drafting the Irish immigrants to serve in the Union Army during the Civil War caused an unintended consequence, as many top-down policies tend to do. Blacks were not considered citizens and were exempt from the draft as were those who could afford to pay $300.00 to the government or provide a substitute to avoid serving in the war. The Irish were afraid they would lose their livelihoods on the docks and slaughterhouses if forced into serving in the Civil War and they would be replaced by the former slaves, so they protested.
On Monday, July 13, 1863, the protestors initially targeted military and governmental institutions as an objection to the Civil War and the unfairness of the draft. By the afternoon the tide turned and their black friends, family, and neighbors were under attack by protestors turned rioters for three days. Mobs attacked the Colored Orphan Asylum housing 233 children. The children were led out to safety, but the orphanage was looted, ransacked, and then burned to the ground. A police officer leading the children out was killed by the angry rioters. Order was not restored until the military stepped in.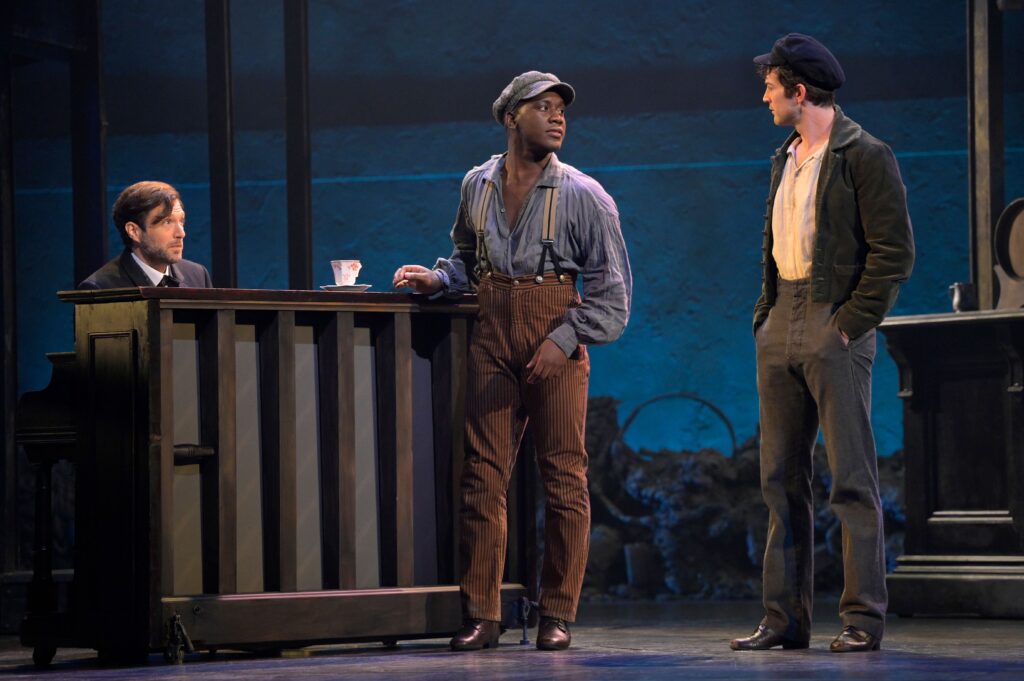 This is the historical backdrop for Paradise Square when harmony and understanding come undone on their little piece of Eden with the following stellar cast: Nelly O'Brien,(Joaquina Kalukango) the stalwart Black Paradise Square Saloon owner whose Irish husband Willie O'Brien (Matt Bogart) serves faithfully as a Union soldier. Nelly's bawdy, taunting Irish Catholic sister-in-law is Annie Lewis, (Chilina Kennedy) and her Black minister husband, Reverend Samuel Jacob Lewis (Nathaniel Stampley) a caretaker to the community. Owen Duignan (A.J. Shively), is a conflicted newly arrived Irish immigrant. While Washington Henry (Sidney DuPont), plays a fearless freedom seeker. Frederic Tiggens John Dossett), is an anti-abolitionist, uptown, evil political boss determined to shut Nelly's saloon down. Milton Moore (Jacob Fishel), a drunk, penniless songwriter with a surprising secret, is trying to capture it all.
The original musical was conceived by Mr. Kirwan called Hard Times and performed in 2019 at the Berkeley Repertory Theater under the direction of Tony Taccone and Susan Medak. Paradise Square has evolved from Hard Times into a profound powerful grand production. The talent in this musical is truly amazing. The songs, dance, and acting are superb. The choreography ranges from intensive, energetic, percussive step dancing to creative lyrical emotive storytelling through movement. The strength and poignancy of Joaquina Kalukango's voice will cause your spirit to soar. From the thunderous applause, and loud laughter it was evident the audience loved the opening night of Paradise Square. This is a definite must-see musical before it heads to New York.
Garth Drabinsky, a Canadian theatrical and film producer, brings this dramatic heart and soul history to the Nederlander Theater in Chicago which he was responsible for refurbishing when it was the Oriental. Some of his noted productions are among my favorites of all time: Phantom of the Opera, Joseph and the Technicolor Dreamcoat, Aspects of Love, and Fosse. His company Livent (Live Entertainment Company of Canada, Inc.) earned 19 Tony Awards out of 61 nominations. I am hoping Paradise Square wins Tony number 20.
To paraphrase Nelly O'Brien: Broadway in Chicago doors are open. Come on in. Loop theaters run by Broadway in Chicago will require COVID-19 precautions including proof of vaccination or negative tests, and masks for audience members, at least through the end of 2021 for further information contact Paradise Square until December 5.