So you sometimes think you've seen A CHRISTMAS CAROL one time too many? After all, A CHRISTMAS CAROL has become a holiday staple with hundreds of productions each December in every nook and cranny of our country. A Christmas classic contained in a novella that took only two months to write, Dickens' A CHRISTMAS CAROL has charmed people for over 100 years. And that's not even counting the dozens of theater productions that brought Dickens' characters to life – people like the infamous, miserly Ebenezer Scrooge and the three ghostly spirits who haunt him on Christmas Eve.
Well, get ready for a new take on the old story. When two visionary Tony Award winners – playwright Jack Thorne and director Matthew Warchus – got together, a new and charming interpretation of this seasonal classic was born. Ably abetted by three-time Emmy winner Bradley Whitford as Scrooge, Tony and Emmy Award nominee Kate Burton as the Ghost of Christmas Past, and Grammy, SAG Award, Critics Choice, and Hollywood Critics Association Award nominee Alex Newall as Ghost of Christmas Present, the Old Vic production of A CHRISTMAS CAROL breathes fresh life into the nineteenth century tale. Currently directed by Thomas Caruso, A CHRISTMAS CAROL digs into the heart of Dickens' novella with new vigor and a thoroughly modern eye. Plus lots of mind-boggling special effects.
Bradley Whitford does a marvelous job of bringing Scrooge to life. It's worth the price of admission to see dour Bradley Whitford morph into a giddy Robin Williams clone as A CHRISTMAS CAROL progresses. Song and dance abound, all bringing a special exuberance to the holidays. Bob Cratchit (Dashiell Eaves) is appropriately humble, and beyond cute Tiny Tim (Sebastian Ortiz/Cade Robertson) will always win the audience's heart. Belle (Sarah Hunt), the one who got away, finally gets to settle scores with Scrooge, while Marley (Chris Hoch) surprises all of us with his overwhelming voice as he drags his chains along behind. And let's not forget about the Brussels sprouts sailing by on parachutes or the snow dancing through the air as the Scrooge crew gets ready for a once-in-a-lifetime Christmas feast. Without a doubt, the Ahmanson Theatre's A CHRISTMAS CAROL is exhilarating and joyous. Funny moments are interspersed with poignant to yield a satisfying whole. The Old Vic's A CHRISTMAS CAROL is a not-to-be-missed production.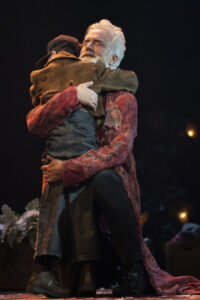 But not only do bipeds grace this production. Rob Howell's set, coupled with Hugh Vanstone's lighting and Simon Baker's sound, certainly qualify as another super star. Suddenly Dickens' words are transformed into dazzling sound and light. On top of that, audiences will be serenaded by Celtic musicians and dancers who play whistles, accordions, ukuleles, and even bells with abandon – sometimes tossing mandarins to eager audience members. For audience safety, COVID-19 protocols are followed (proof of vaccination, masks inside theater).
A CHRISTMAS CAROL runs through January 1, 2022, with performances at 8 p.m. Tuesdays through Fridays, at 2 p.m. and 8 p.m. on Saturdays, and at 1 p.m. and 6:30 p.m. on Sundays (extra 2 p.m. performances on Thursday 12/23 and 12/30; 12 p.m. and 5 p.m.performances on Friday 12/24; only 8 p.m. performance on Saturday 12/25; only 7 p.m. performance on Friday 12/31). The Ahmanson Theatre is located in the Music Center, 135 N. Grand Avenue, Los Angeles, 90012. Tickets range from $40 to $150. For information and reservations, call 213-972-4400 or go online.