By David Hamilton
As a child I needed three things to symbolize Christmas. The Little Drummer boy recording by the Harry Simeone Chorale, A Charlie Brown Christmas and The Nutcracker. My parents made sure I had a steady diet of PBS which meant that I grew up on The Nutcracker starring famed Russian ballet dancer Mikhail Baryshnikov. Best known for its score by Pytor IIyich Tchaikovsky, the story itself is adapted from E.T.A Hoffman's "The Nutcracker and the Mouse King". Over the years it has become a staple of Ballet Companies around the world as a celebration of the Holiday season. In its first season at the Lyric Opera House, The Joffrey Ballet brings its version from Tony Award winning choreographer Christopher Wheeldon.
Set in the year 1893, with Chicago's famous World's Fair as its backdrop, Wheeldon's re-imagined Nutcracker follows Marie and her poor immigrant family as they prepare for a Christmas party. For exact context and clarity, you can visit the website and view the program for a synopsis. But essentially, it's remains true to the original. The combination of Wheeldon's choreography and Tchaikovsky's music highlight each other, especially in the second act. A huge screen is utilized to project scene changes and animations that help to tell the story. As we travel to different lands, using the animations, The World's Fair acts as an excellent conduit as we celebrate the different cultures through their dance. The muti ethnic cast is incredibly talented. Ballet dancers train as hard as those who pursue athletic endeavors. They're athletes in the true sense of the world. It takes a huge amount of physical strength, stamina and mental toughness to become one.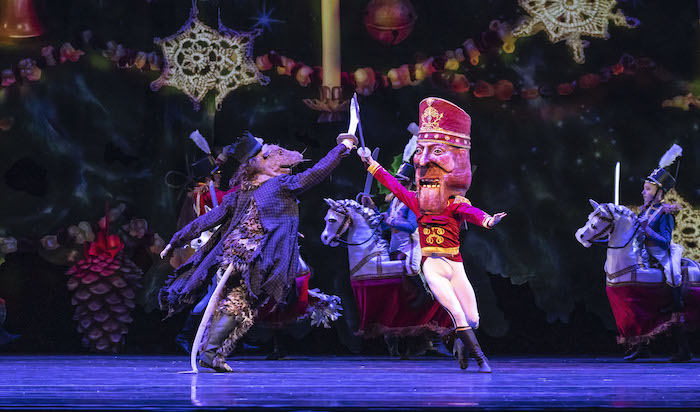 There is so much that is delightful about this production from the costumes to the music to the dancing…there is even puppetry! The Nutcracker is perfect holiday fun for the whole family! You'll leave smiling with visions of sugar plums in your head. The audience truly enjoyed themselves. The orchestra is fantastic. Everyone should get out to see this wonderful Production.
The Nutcracker runs from December 4-26 at the Lyric Opera. Tickets can be purchased at Joffrey.org.
Celebrating 65 years of artistic excellence in 2021.
Classically trained to the highest standards, The Joffrey Ballet expresses an inclusive perspective on dance that reflects the diversity of America through its Company Artists, extensive repertoire, Academy, and Community Engagement programs.
Considered one of the premier companies performing today, the Joffrey plays a vital role in the dance community as the largest dance company and dance education provider in Chicago and the greater Midwest region.
Watch a Joffrey documentary