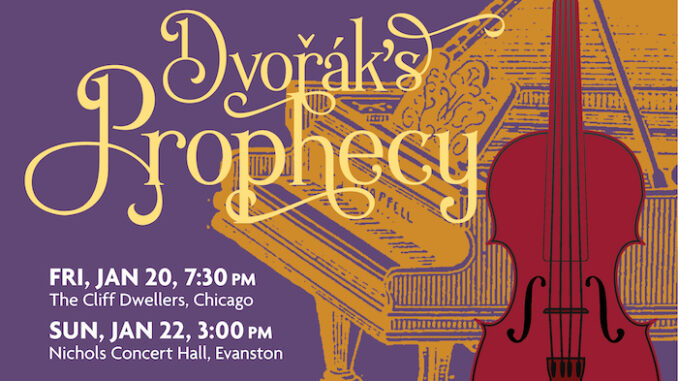 Experience the works of Antonín Dvořák and Samuel Coleridge-Taylor alongside the American songs that influenced these composers. Inspired by Joseph Horowitz's book Dvorak's Prophecy, And the Vexed Fate of Black Classical Music Rembrandt highlights these unheralded compositions–the songs of black and indigenous peoples, and a forgotten "American sound" overlooked by many contemporary classical composers.
Dates:
7:30pm January 20 at The Cliff Dwellers
200 S Michigan Ave, Chicago, IL 60604
3:00pm January 22 at Nichols Concert Hall
1490 Chicago Ave, Evanston, IL 60201
Program:

Deep River, Op. 59, No. 10 arr. S. Coleridge-Taylor (1875-1912)
Transcribed for violin and piano by Maud Powell (1867-1920)
John Macfarlane, violin
Henry Kramer, piano


Sonata in D minor for Violin and Piano, op. 28 S. Coleridge-Taylor (1875-1912)
John Macfarlane, violin
Henry Kramer, piano

Deep River arr. Henry T. Burleigh (1866-1949)
Lunga Eric Hallam, tenor
Henry Kramer, piano

Intermission


Piano Quintet No. 2 in A Major, op. 81, B. 155 Antonín Dvořák (1841-1904)
Eoin Andersen, violin
John Macfarlane, violin
Carol Cook, viola
Haddon Kay, cello
Henry Kramer, piano


Goin' Home Words and adaptation by William Arms Fisher (1861-1948)
From the Largo of the New World Symphony by Antonín Dvořák
Lunga Eric Hallam, tenor
Henry Kramer, piano
Guest Artists:
Eoin Andersen, violin; Lunga Eric Hallam, tenor; Haddon Kay, cello; Henry Kramer, piano
Tickets:
Use the link above and discount code Splash23 for 15% off general admission tickets to Dvořák's Prophecy!
General Admission Tickets: $43
Student Tickets: $15
Join us after the concert for an Encore! reception. Celebrate Rembrandt's first concert of 2023 with your fellow patrons, and Rembrandt artists.
Support Rembrandt on Givebutter
Rembrandt Chamber Musicians is proud to unveil our new digital fundraising hub powered by Givebutter! Use the link below to connect with Rembrandt about our ongoing initiatives in accessibility, outreach, and education; and support Rembrandt by making a tax deductible donation today! 
The Rembrandt Chamber Musicians website shares they are…..
Deeply committed to fostering chamber music education and appreciation, Rembrandt founded its highly acclaimed Annual High School Chamber Music Competition in 1995, an event that continues to draw participants from the Music Institute of Chicago, Chicago Youth Symphony Orchestras, Midwest Young Artists, Merit School of Music, and a variety of public and private schools throughout the state. Winning ensembles receive cash prizes, coaching sessions from Rembrandt musicians, and performance opportunities and participate in educational outreach projects for Chicago-area schools that lack an established music program.
In June 2015 John von Rhein of the Chicago Tribune hailed Rembrandt as "one of the more notable success stories in Chicago chamber music," going on to say that "regular appearances by guest artists help keep Rembrandt's repertory fresh and varied." In his review of Tchaikovsky's Souvenir de Florence, von Rhein praised the ensemble for its "infectious verve, spontaneity, and abundance of feeling." Rembrandt's concerts are regularly selected as the Chicago Tribune's top classical music pick of the week and are rebroadcast on WFMT classical radio throughout the year.
Photos are courtesy of Rembrandt Chamber Musicians