Las Vegas has become home to several great Mexican restaurants, and often the most well-known names are those on the Las Vegas Strip. Needless to say, if that is the only place you look, you're going to be missing out. El Dorado Cantina isn't just a Mexican restaurant, they have a menu that brings authentic flavors of Mexico to Las Vegas like no one else and they give you three incredible locations to choose from.
El Dorado Cantina doesn't just have a menu with Mexican dishes, they showcase an array of traditional Mexican dishes crafted with authenticity and attention to detail. Nothing gives you a better idea about what care goes into each dish than the mole that is created fresh daily. Corporate Chef Hugo Rodriguez, who oversees all three locations, has what is tantamount to a locked in vault 100 ingredient version of mole that will pass the test of anyone who thinks their mom or grandma has the best version. Each time you taste the mole you are left trying to guess the flavors as they are so well brought together they become one, giving you a hint of sweetness and chocolate and every other ingredient trying to come to the forefront. This is just one of the best versions of mole you will ever taste. In-house, made-to-order, fresh ingredients, are not just talk at El Dorado Cantina, this is how they do they do things and it is the philosophy from top-to-bottom of the menu. The tortillas themselves are from Mexico and they are used to create the fresh and warm chips that are a must with each meal.
The way to start your El Dorado Cantina experience is by ordering the freshly prepared tableside guacamole. Not only is this enjoyable to watch and worth taking notes to try and copy once you get home, but what they serve you is going to spoil you for any future restaurant guacamole. The fresh avocados are muddled with lime, cilantro, and garlic among a long list of ingredients, but they still keep the avocado front and center as it is thick and chunky and those fresh tortilla chips make the perfect vessel. If that wasn't enough, with the chips, come two versions of in-house made salsa that is again as good as any will find served at dinner in Mexico
There are plenty of classic dishes and more, you are going to find sizzling fajitas, wild salmon served on a cedar plank, chile relleno, the slow-cooked pork that is fall-apart tender carnitas and every type of taco you could think of. They also offer vegetarian and vegan options for tacos, cauliflower or roasted corn, and poblano. The menu is so wide-ranging, they truly have a dish for everyone. Regardless of what you order, it all comes back to the high-quality ingredients that are used in the kitchen and they always create an amazing dish once it reaches you.
The weekend brunch is simply the spot to be with friends and family and enjoy bottomless mimosas, bloody marys, Aperol spritz, or a pitcher of sangria to go along with a menu that has a little bit of brunch goodness for everyone in your group. You can't go wrong with the made-to-order omelet bar that features chorizo, carne asada, and Oaxacan cheese and to make things interesting, you can add extra spicy house-made habanero salsa and ghost chilis. Beyond the omelet bar, you can choose from the chorizo and eggs enchilada that is plated on top of their wonderful mole, the chorizo skillet, chilaquiles, and the Tres Leche French Toast, which is a cinnamon swirl bread soaked in Tres Lecha Crema, just a wonderfully rich version of this dish that is topped off with strawberries and chantilly cream.
While you are likely to come for the food, the incredible cocktail menu will not only keep you in your seat well after you are done eating, but it will entice you to come back any time of the day or night. The margarita list is long and it takes from the classic version to flavors you likely would have never thought of trying, but once you do, you will be hooked. The creative margarita flavors include strawberry mint, prickly pear, mango habanero, guavanana, a combination of guava and banana, and the ultimate version that brings childhood and adulthood together, the creamsicle. Think of the classic frozen treat that pairs orange and vanilla and turn that into a very adult margarita and you will have a hard time putting this drink down. The list of tequilas and mezcal is enormous and if you want to get introduced to a few brands, they have a great of flights to get you started.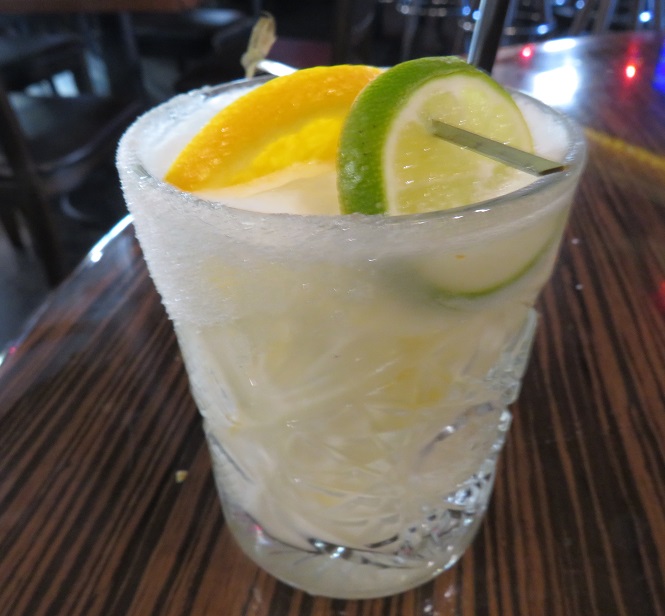 Located within the charming Tivoli Village, one of three locations, El Dorado Cantina greets you with a vibrant atmosphere and a setting that captures the essence of Mexico's culinary heritage. From the moment you step inside, you are transported to a lively and inviting space that sets the stage for a memorable dining experience. El Dorado Cantina also matches the setting of Las Vegas, as they are open 24 hours a day.
Most people tend to have the belief that the best of the best is on the Las Vegas strip and that is where they are going to visit and stay. This is Las Vegas, take a gamble and venture off the strip and you will find there is so much more to this city. If you visit any of the three El Dorado Cantina locations you are going to just rewarded and you will find that while that approximately 4.2 miles of glitz and glamor gets all the attention, often the best of anything and certainly in this case Mexican food, is worth a short ride or quick cab ride. El Dorado Cantina will not disappoint.
For more information, visit: El Dorado Cantina